I expected food, culture, and a unique culinary guide to the city – my adopted city.
I didn't expect the tears.
I was invited to a screening of the documentary film City of Gold about Pulitzer Prize-winning Los Angeles Times food writer Jonathan Gold, directed by Laura Gabbert. It was a mid-week event right around dinner time. Which means high level planning, texting, and coordinating by the tag team parental unit. It means somewhere between school pick-up, homework, piano and violin practice, and endless queries about when it's ok to play Minecraft, there's dinner to consider. It means preferably a one-pot meal – stove to table. Something that will satisfy and nourish. Something a six-year-old can pick at and deconstruct to the daily (hourly?) whims of her palate. Something for which a nine-year-old will happily lick her bowl clean. All of which translates to aash – a hearty Persian soup. Use up whatever is within reach kind of aash.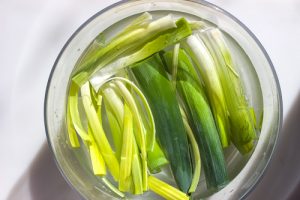 I take my seat in the intimate theater. The lights dim and Laura Gabbert's lens invites us to ride shotgun along side Mr. Gold. He guides us through the streets of his beloved Los Angeles with ease, respect, curiosity and a local's sense of love and authority. A true reflection of what has made him and his columns so adored by Angelenos and beyond. He weaves on and off our Escherian freeways in search of a taco truck, a hot dog stand, Szechuan, very spicy Thai, Oaxacan, fancy French fare, Ethiopian, grasshoppers with Ruth Reichl, and a brief stop at the always reliable and delicious Attari for a little taste of Iran.
What shines brightest in City of Gold, what resonated most deeply with me, what grabbed my heart and lodged a lump deep in my throat are the stories behind the food. Laura Gabbert touchingly captures Mr. Gold's gift to shine a light on these stories. The people, the families, the struggles and successes, life in the diaspora, life in every corner of Los Angeles.
Mr. Gold's dedicated pursuit of the next satisfying meal reveals the many colors of the mosaic that makes up Los Angeles. We are reminded that our communities are alive and bursting with all sorts of flavors, people and stories – we just need to venture out a little more east, south, north and west to discover them. To break bread with them.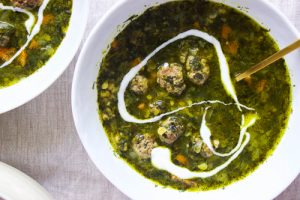 This aash is a reflection of the flavors and ingredients that have journeyed with me from east to west. A mix of flavors that bring comfort in their familiarity. There is the abundance of fresh greens so beloved in Iranian cooking, the chewy bite of Italian farro, a mix of creamy cannellini and mung beans, a whole leek – white and green parts, mini-meatballs mixed with fresh herbs and Parmesan (for added flavor and more importantly because that's how my kids love them) and a couple of spoonfuls of yogurt to bring it all to life.
The true spirit of aash-making is not in how accurately you measure, or use these ingredients exactly as dictated. Aash is generous in spirit and very forgiving. If you don't have mung beans on hand try lentils, or substitute rice or noodles for the farro. For a vegetarian option, leave out the meatballs. Don't get too caught up on how big or small your bundle of greens is. Reach deep in the back crevices of your fridge and revive the forgotten and neglected. This is also a great dish to use the whey (from straining yogurt) sitting in your fridge door, politely waiting for its turn to be asked to the dance. If you don't have whey, not a problem, just use water.This recipe can serve as a guide as your pantry, crisper and taste buds lead the way. From east, south, north and west.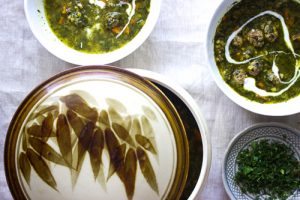 At a time when there is so much talk about building walls to separate – Laura Gabbert and City of Gold quietly offer Jonathan Gold, an ambassador of sorts. A not so anonymous, suspenders and bowler hat-clad food critic – crossing bridges, and overpasses in his green pickup truck – connecting us to our neighbors. One dish at a time.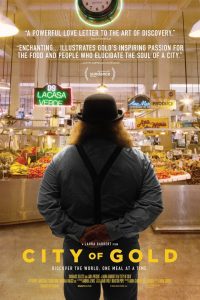 FARRO, MUNG BEAN, CANNELLINI AASH
Notes: Cleaning and chopping bunches upon bunches of fresh green herbs can be time-consuming. Don't get too caught up in the task. Chop off the thick stems (set aside to use in broths, if you like) and chop the more tender stems and leaves. I highly recommend pulsing the leek, green herbs and the green onion in a food processor to save time.
Serves 8
4 tablespoons olive oil
1 medium onion, finely chopped
3 garlic cloves, chopped
1 medium leek, white and green parts, finely chopped
2 medium carrots, chopped
4 large chard leaves and stems, leaves and stems chopped and set side separately
1/2 teaspoon turmeric
1 tablespoon dried mint
3/4 cup semi-pearled farro
1/4 cup cannellini beans, soaked overnight
2 cups whey, (if using, otherwise use equal parts water)
10 cups water
1/4 cup mung beans, soaked overnight
1 bunch parsley, chopped
1 bunch cilantro,chopped
1 bunch dill,chopped
3 green onion, chopped
fine grain sea salt
ground black pepper
Meatballs
1/4 of a medium onion, grated
1 tablespoon chickpea flour, or bread crumbs
1/3 cup finely grated Parmesan
1 lb ground meat
2 tablespoons chopped fresh herb mix, from above
2 heaping tablespoons plain yogurt, plus more for serving
1 teaspoon fine grain sea salt
1/4 teaspoon ground black pepper
Mix the chopped parsley, cilantro and dill. Set aside 2 tablespoons of the mix for the meatballs.
Heat the oil in a large pot over medium. Add the onion and cook for 10 minutes until golden and fragrant. Add the garlic, the turmeric, dried mint (crush between your fingers to release its fragrance) 1/2 teaspoon salt, 1/4 teaspoon black pepper. Cook for 2 minutes, stirring. Add the leeks, carrots and chard stems, cook for 5-8 minutes, until slightly softened. Add the farro and cannellini beans, give a quick stir and add the whey (if using) and water. Bring to a boil, cover with the lid slightly ajar and simmer over medium heat for 20 minutes.
In the meantime make the meatballs. In a medium bowl mix together the grated onion, chickpea flour (or bread crumbs), and Parmesan. Add the meat, fresh herbs mix, salt and pepper. Mix well, massaging all ingredients into the meat. Form into mini-meatballs (I use a teaspoon to scoop up the meat) and set aside. You can make the meatballs ahead of time and refrigerate.
Add the mung beans, chard leaves, and green onion to the aash, simmer covered with lid ajar for 10-15  minutes, until beans soften. Add the fresh herbs and meatballs, and 2-1/2 teaspoons sea salt. Simmer covered with lid ajar for about 15 minutes, until meatballs have cooked through and beans and farro have softened.  Scoop out a couple of ladels full of the broth in a bowl and mix the yogurt with it. Pour back in the aash and stir. Taste and adjust all seasoning. Add more yogurt in this manner if desired.  Serve with extra yogurt on the side.