Azadi?  What does Azadi mean, mama?
It means Freedom in Farsi, Luna.
The day before Nowruz – Persian New Year. We are at the Persian Bazaar – aka Westwood Blvd. – doing some last-minute shopping.  The girls pick out the sonbol – hyacinth – a purple one, of course.  Happily they crunch on the ajeel – the nut mix the store owners keep offering them. They marvel at the mounds of fresh green herbs everyone is sorting through – cilantro, parsley, dill, tarragon, chives, green onion, fenugreek.  With every inhale their noses fill with the inescapable aroma of Spring – a new day – tulips, cherry blossoms, rose water, seville oranges, hyacinth, hyacinth, hyacinth.  They practice snapping their fingers and swaying their hips to the joyful and celebratory music pouring out of every store.  At the bookstore Luna discovers a bookmark with Azadi written on it.
What does Freedom mean?
Three grown adults are momentarily left speechless.  Once we gather our thoughts – Drew, my mom and I try to convey what Freedom means to a five year old.  She listens quietly – head leaning to one side – chestnut brown eyes resting their soulful gaze on the haphazard chaotic world rushing past her car window.  Nothing more is said – or asked.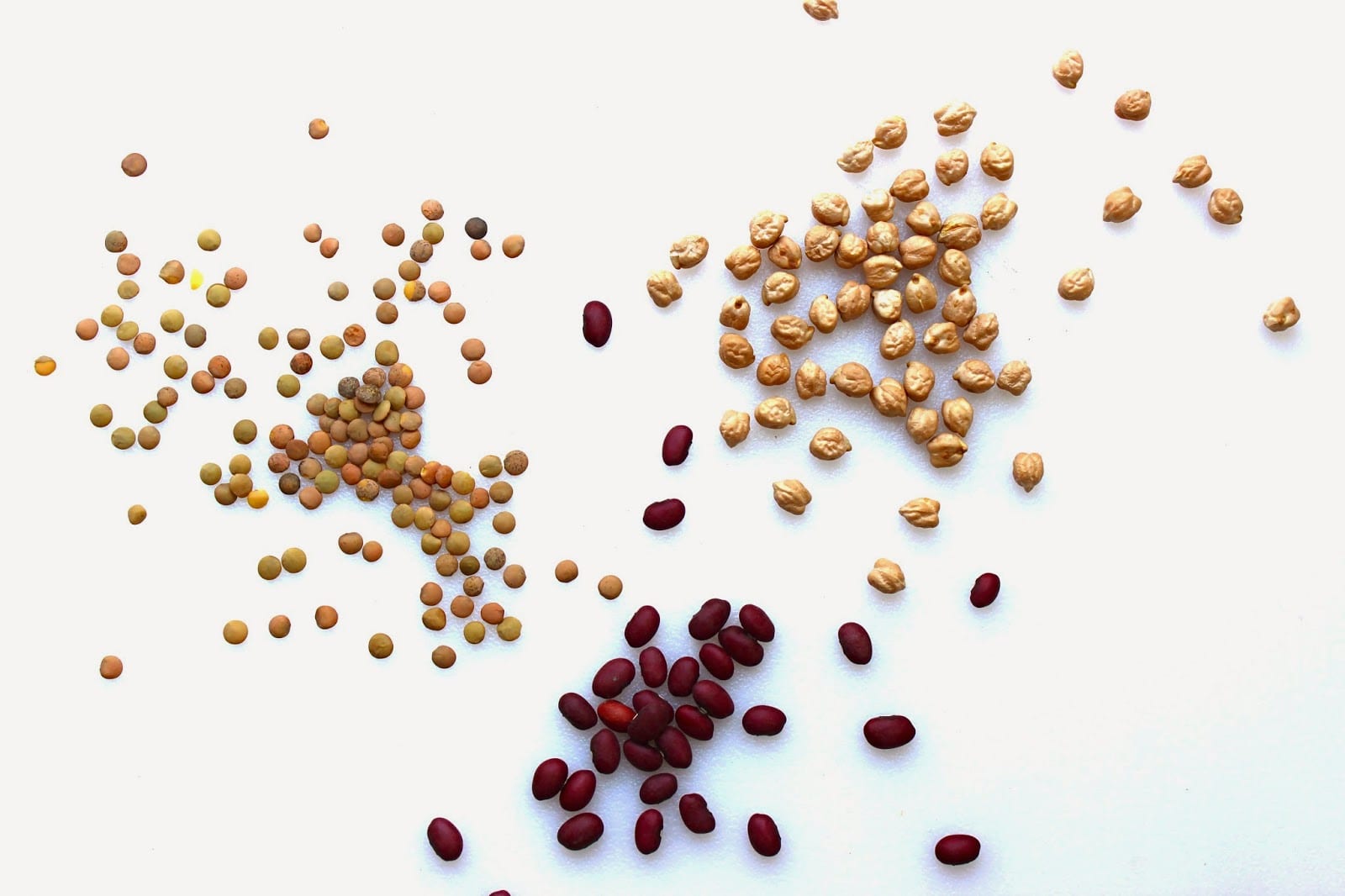 Aash (rhymes with wash) is a hearty, thick soup typically made with a variety of herbs, legumes and grains. There are many different varieties of aash.  Each bursting with flavor and satisfying enough to be served on its own as a meal or in a smaller portion to begin each meal. Most aash can also be prepared vegetarian/vegan and gluten-free.
Aash can be considered the foundation of Persian cooking.  The heart and soul of it.  In fact, the Persian word for kitchen is aash paz khaneh – the house (or room) where aash is made and the word for cook is aash paz – the maker of aash.  Different kinds of aash are traditionally eaten to celebrate or commemorate special occasions.
Aash-e Reshteh literally means aash with noodles.  Traditionally Aashe-e Reshteh also known as Aashe-e Chaharharshanbeh Suri is served on the last Tuesday night before Nowruz – shabeh Chaharshanbeh Suri.  The noodles in the aash are said to symbolize the many winding paths that life spreads before us.  It is fitting then, to enjoy this heart warming aash right before the New Year, perhaps in the hopes of embarking on the right path for the coming year.  This also reminds me of the Italian tradition of eating Lentil Soup for good luck in the New Year.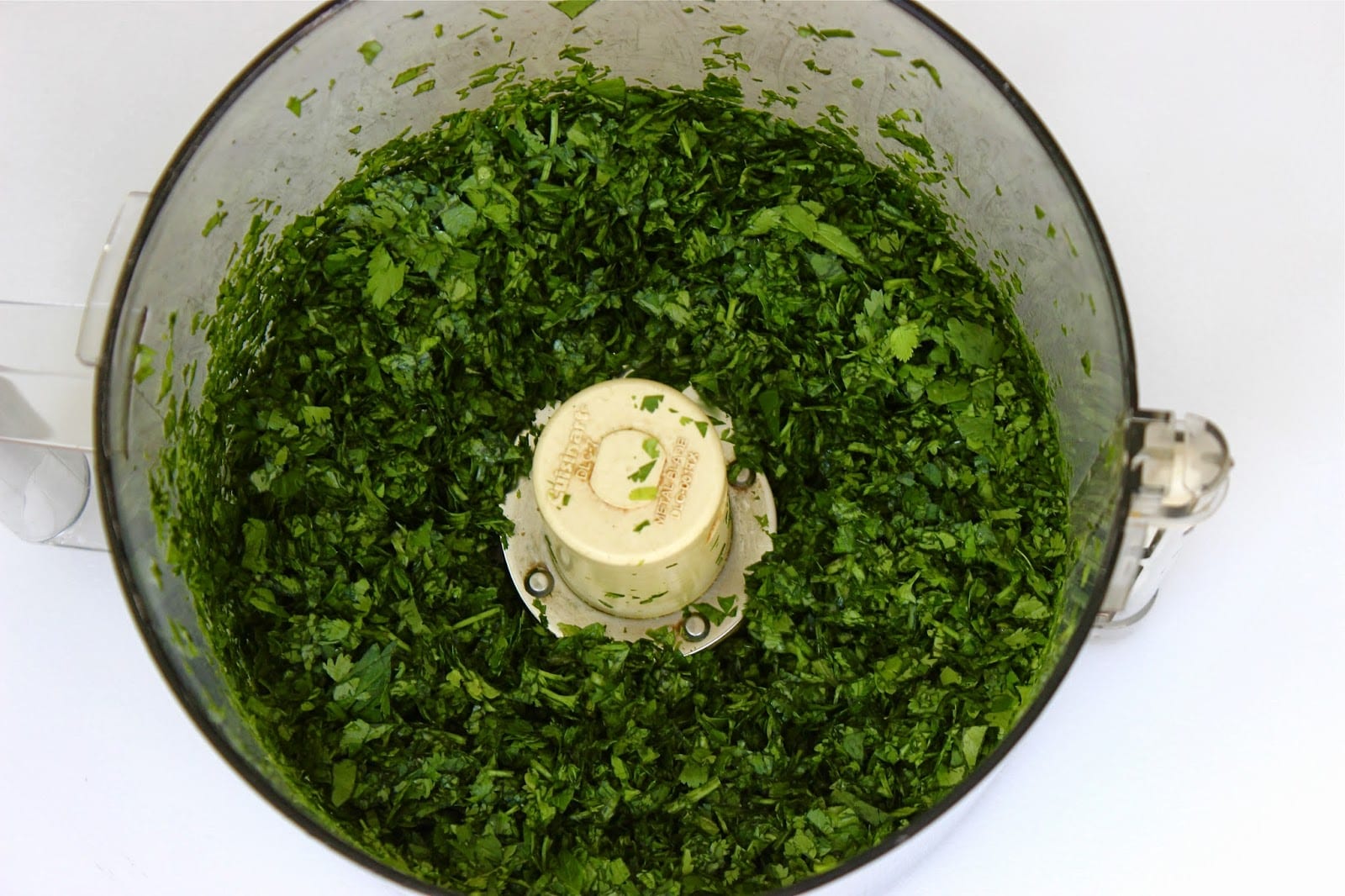 The preparation of Aash-e Reshteh is quite simple.  As with most Persian dishes that use an abundance of herbs, the most time consuming part is the washing and chopping of the fresh herbs.  A food processor can be of great help here.  And just like the preparation of Koo Koo Sabzi you don't need to get too caught up with taking every parsley leaf off the stem.  I cut off the long stems (you can save the stems for stock) and then run my knife through the herbs (little stems and all) a couple of times and throw everything in the food processor.  I like to use dry beans which I first soak for a few hours or overnight.  But you can also use canned beans if that's what you have on hand.  The combination I used here is chickpeas, red pearl beans (you can also use the slightly larger red kidney beans) and lentils.  Persian noodles -reshteh – can be found at Persian grocery stores or online, but linguini noodles work just as well.  And just like Kashki Bademjan, what really elevates this aash are the garnishes:  kashk and carmelized onion, mint and garlic.  If you can't find any kashk (or are still unsure of starting a relationship with this handsome new stranger), a sour European-style yogurt, or strained Greek-style yogurt or creme fraiche will work just fine too.  But I really think you should give kashk a chance.
Be it a special occasion, a cold winter's night, a new journey, or simply one of those days when you just need a big hug, and a big bowl of comforting goodness in a bowl – Aash-e Reshteh is sure to hit the spot.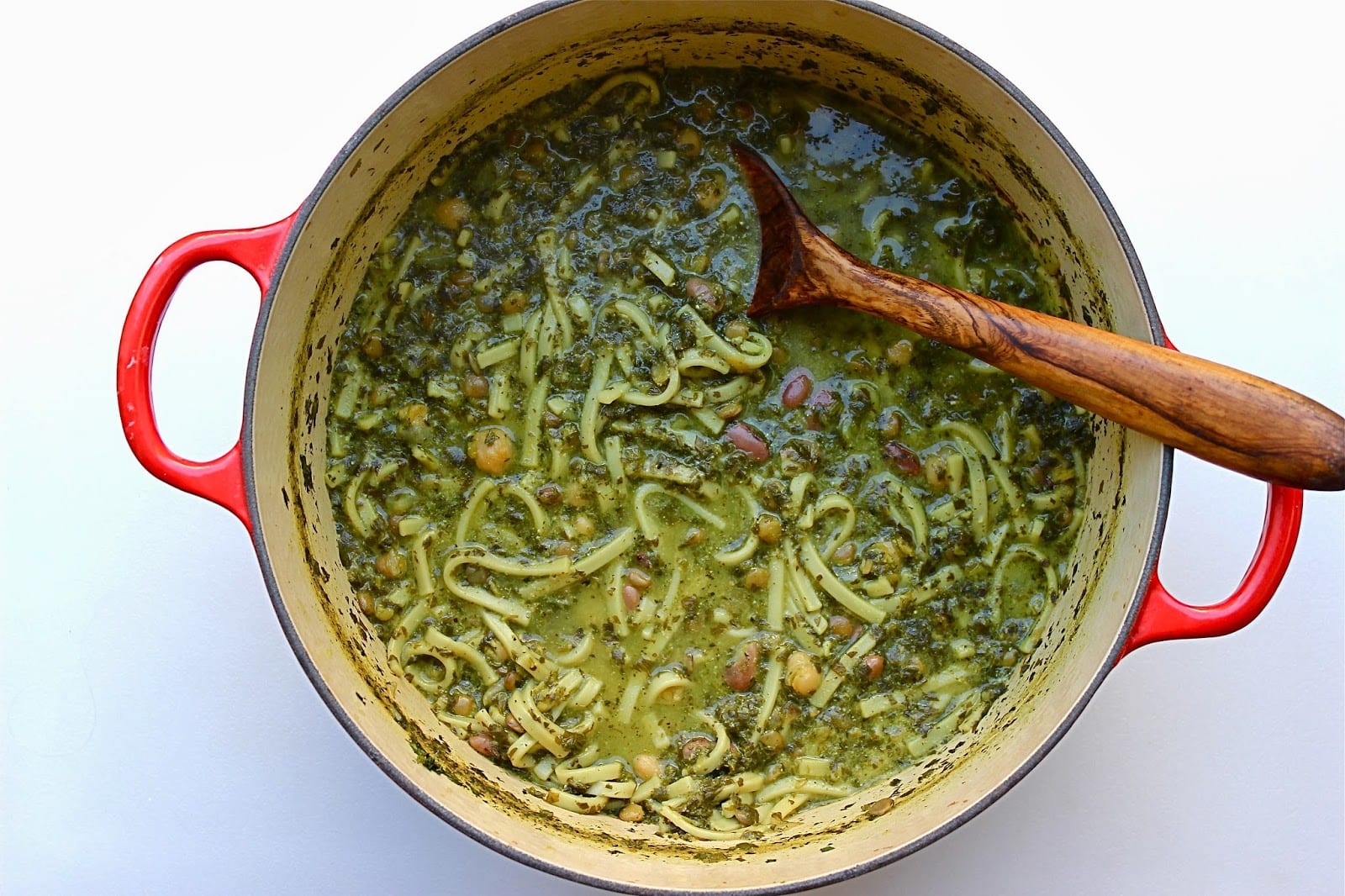 The girls enthusiastically help me set up the Haft Seen table.  The hip-shimmying Persian music winds its way through the house.  Soleil and I debate the placement of the sonbol in relation to the goldfish – the goldfish like to be close to the sonbol so they can smell the sweetness too – two year old logic.  Luna runs up – out of breath – waving her Azadi bookmark.  She insists that we add it to the Haft Seen table.
It's important Mama.
This year on Thursday, March 20, 2014 at precisely 9:57am PST – precisely the moment when the Earth's axis tilts neither away nor toward the sun – when night and day are exactly the same length all around the world – we will welcome in a New Day – Nowruz.  And for the third year in a row Luna's Azadi bookmark will have a place at our Haft Seen table.
Because it's important.
Wishing you all a very Happy Nowruz and Peace and Freedom for everyone around the globe.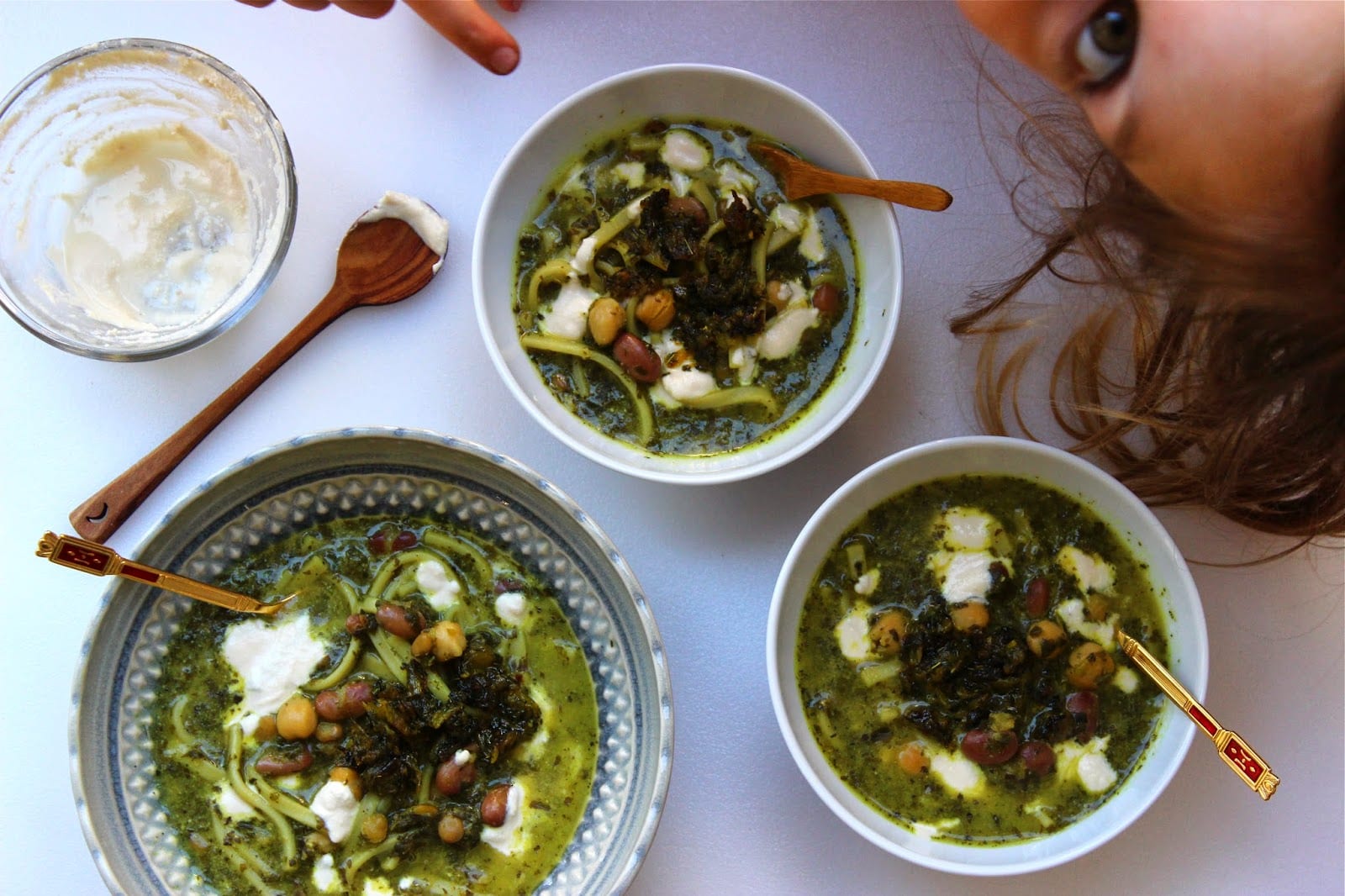 FRESH HERB, BEAN AND NOODLE SOUP – AASHE-E RESHTEH
Serves 6-8 as a starter or 4-6 as a main dish
Ingredients:
1/3 cup dried chickpeas, soaked  overnight
1/3 cup red pearl beans or red kidney beans, soaked overnight
1/2 cup lentils, rinsed and drained
1/3 cup caramelized onion, mint and garlic, plus more for garnish (recipe here)
1 large bunch cilantro, chopped
1 large bunch parsley, chopped
1 bunch green onion, finely chopped
1 bunch spinach, chopped
8oz linguini noodles or reshteh snapped off into 2 inch pieces
1-2 tablespoons kashk or Greek style yogurt or creme fraiche, plus more for garnish
fine grain sea salt
ground black pepper
1- Place chickpeas and 10 cups water in a large pot over medium/high heat and bring to a boil.  Turn down the heat to medium and simmer partially covered until chickpeas are slightly tender but not fully cooked through.  The amount of time depends on how fresh your beans are and if they were soaked or not.  Anywhere between 20-30 minutes.
2- Add the red beans.  Partially cover again and simmer over medium heat until the red beans are slightly tender.  About 10-20 minutes depending on your beans.
3- Add the lentils, cilantro, parsley, green onion, spinach, 1 tablespoon salt, 1/2 teaspoon black pepper and caramlized onion mixture.  Partially cover and simmer for 15-20 minutes until the lentils are tender but not mushy. (The aash can be made in advance until this point).
4- Add the noodles and more water if necessary, and simmer uncovered until the noodles are fully cooked through and all the flavors have melded.  This soup should be on the thicker side so adjust the amount of water accordingly. Stir in  the kashk or yogurt or creme fraiche 1 tablespoon at a time according to taste.  Simmer for a couple of minutes.  Taste and adjust seasoning.  (Taste for seasoning after you add the kashk).  Garnish with caramelized onion and dollops of kashk or yogurt or creme fraiche.
The aash tastes even better the next day.  You may need to add a little more water if reheating.
Will keep in the fridge up to 3 days and in the freezer up to 3 months.