You give the wobbly wheel a swift kick right where it counts and knock it back into place.  You may or may not utter a few unsavory words.  You and your traveling companion –  an old laundry basket on wheels – hurdle your way down the blocked off street.  Giving a quick hello to the lovely farmer who sells your precious sweet lemons to your left, and a nod of the head to the organic dates guy, who is perpetually singing "get your nature's candy" to your right.
The Wednesday Santa Monica Farmer's Market.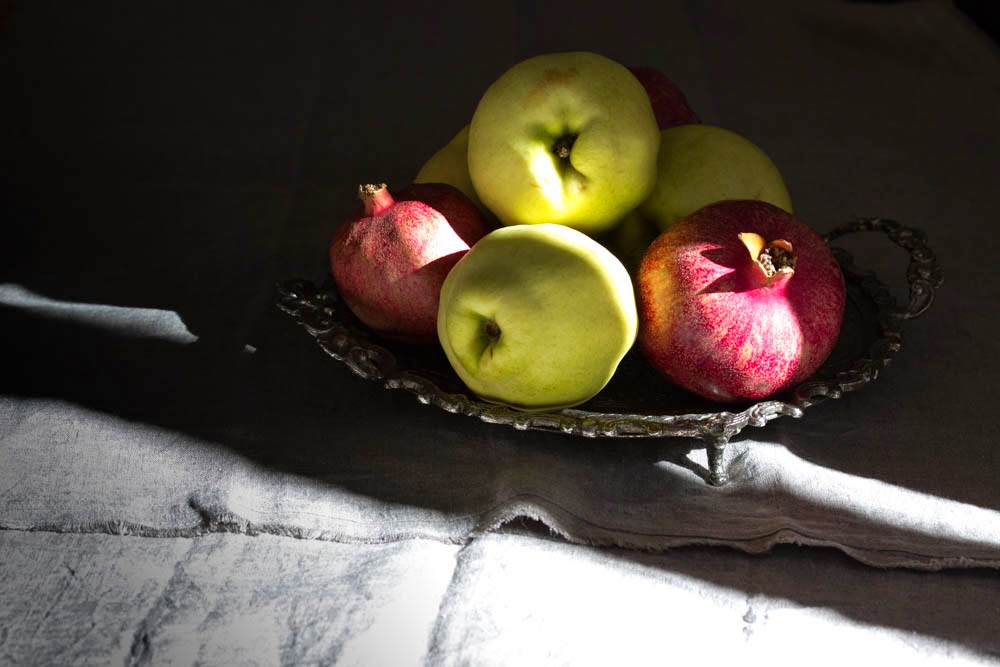 You try to keep your cool with the clog of human traffic.  Casually milling about, admiring the finger limes and slowly savoring the chocolate persimmon.  You contemplate the cute  wicker baskets (pinterest & instagram-worthy) fashionably swung on the arms of the equally cute and hip young shoppers.
You come to a sudden standstill.
You utter a few more unsavory words.
You give the rickety old wheel another kick.
You re-contemplate the cute wicker baskets.
And just as quickly you and your ever-so-moody lower back dismiss the idea.  Cute wicker baskets just don't cut it when you're hauling four pounds of sweet lemons, four pounds of fava beans, an armful of sour green plums, and bags upon bags of fresh herbs.
You dodge the huge restaurant crates coming at you, overflowing with edible flowers, beets and squash of every color and dimension.  You start to panic. You're too late.  You utter a few more unsavory words at the clog of machinery that had you stuck on the Escherian stairwell, also known as the Santa Monica Freeway.
And then with no fan fare, with no trumpets blowing or declarations you spot her.  You spot a whole table full of them.  Quince.  Beh.
You don't approach.  You admire them from afar.  You wave hello to the farmer enlisted with the delicate task of protecting these blushing beauties.  You walk right past them, thinking you'll come right back to them.  Right after you make your way to the end of the market to pick up the pomegranate.  You make your way down to the pomegranate stand in a daze. Your head swimming with thoughts of rose water, creamy labneh, and fragrant beh.  A pie.  The whole thing pretty much comes together right there before your eyes as you gently place the pomegranate in the well-traveled and well-lived laundry cart, and make your way back to the blushing beauties.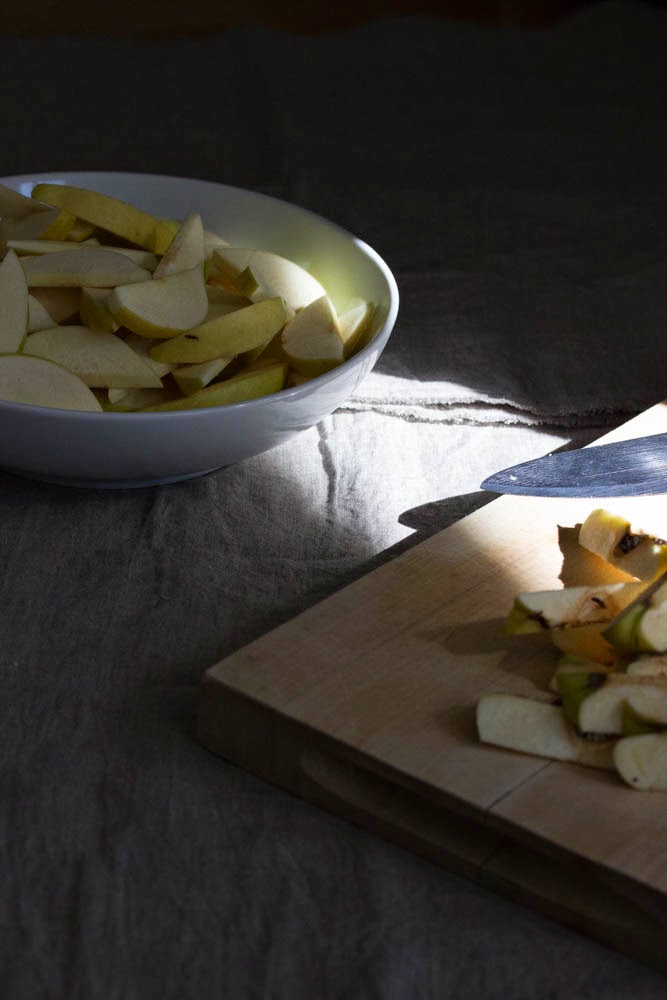 What do you mean you sold out of them?  There was a whole table full of them just five minutes ago!
Your hands are gesticulating madly (as they quite often are wont to do).  A farcical pantomime of recreating the picturesque (pinterest & instagram worthy) table overflowing with the quince.  You know if you give a convincing performance the quince will magically reappear.  If you believe it, they will come.
You didn't do so well in mime class.
Physical theatre was never your forte.
The quince do not reappear.
There sure was – but then came along the chef and he carted them all way.  Who knows what he's going to do with them all.  Who knows what he's thinking.
The farmer is matter of fact and kind.  He once invited you to a Halloween party.  You politely declined.
Your eyes dart back and forth between the tomatoes, the sun chokes, the bell peppers, and the pumpkin.  All that pumpkin.  So much beauty, so much color.  But none of it registers.  None of it matters. The one and only thing that brought you here is gone.
Absconded by the chef.
And his thoughts.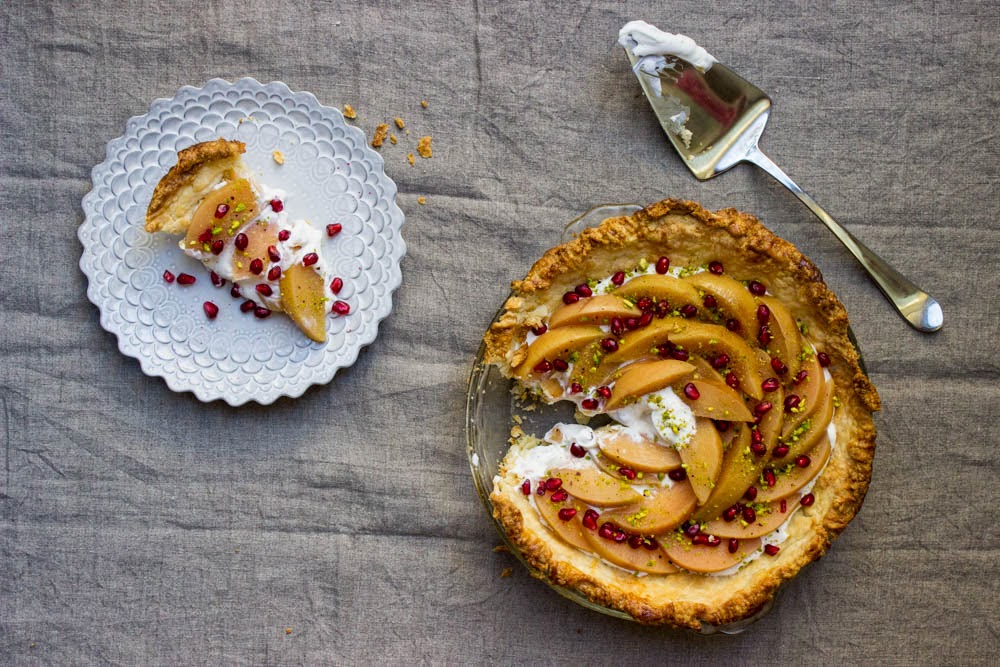 What was he thinking?
Was he thinking of taking out the rose water and gently sprinkling it, flicking it lightly with his fingers over the softening quince?  Did he look away as they blushed?  Was he thinking of stirring the cardamom into the labneh, and then stirring in some more because his eight-year-old thought it needed more?  Did he make his own labneh?  Was he thinking of layering it all in a flaky, buttery pie crust to be garnished with flecks of pistachios and ruby red jewels – pomegranate arils?  Did he offer a piece to his five-year-old only to be curtly and unequivocally rejected?  Was he thinking of saving and drying the quince seeds to use later as a hot tea to cure a nasty winter's cough – just as his mother had instructed him to?  Did he watch with delight as his eight-year-old stepped right into the photo and scooped out the creamy labneh with a piece of quince?  Did he savor a piece all to himself with a cup of bergamot-infused black tea – only to have the moment interrupted by the everyday bickering of sisters?
What was he thinking?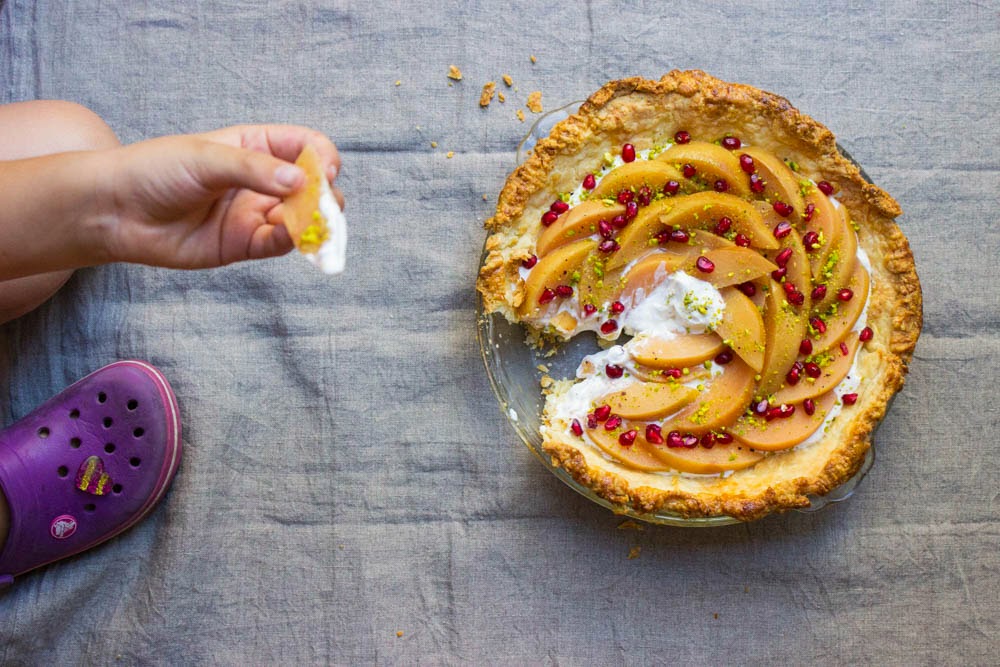 POACHED QUINCE
Notes:
For this pie you need a fully baked and completely cooled pie shell.  I recommend an all butter crust – but use what you love.  Here are some links for tips and inspiration to make your own pie crust: Pamela Salzman video, Pie Crust 101, the kitchn, gluten free pie crust.  Please make sure your pie crust is completely cool before you fill it with the labneh.
If I'm using organic quince I don't bother peeling them.  The peel becomes very soft as it cooks down.
Depending on their quality, quince can soften as they poach anywhere from 20 minutes to 1 1/2 hrs.  Sometimes they blush more than other times.
I don't like to use too much of a sweetener either in my poached quince or in the labneh.  This pie is meant to be subtly sweet, you don't want to overpower the natural fragrance and taste of the quince, rose water and spices.  Adjust sweetness to your own liking. If you are going to add more of a sweetener to the labneh I suggest skipping the maple syrup and using sugar.  You don't want to thin out the labneh so much that it becomes too runny and loose for the pie.
You'll have more quince than you need for this pie.  This is a good thing.  You can enjoy them over yogurt, over pancakes, or as is.  It's a real treat!
You can use store-bought labneh or make you own. It's really easy.
Once assembled, the pie can rest in the fridge for 30 minutes so the labneh can set before you cut into it. I was running out of light for the pictures above so I cut into it right away.  A little messy but still amazingly delicious.
Ingredients:
4 large quince, cored (and peeled if not organic)
1/2 a small lemon
1/3 cup organic cane sugar
water
1 tablespoon rose water
1 – Cut the quince in about 1/4 inch slices. (Save and dry the seeds for sore throats and coughs!)  You don't want them so thinly sliced that as they cook down and soften they fall apart and become mushy. You want them to keep their shape.
2 – Place the sliced quince in a large heavy bottomed pot. Squeeze the lemon over the quince.  Add sugar and about 3 cups (or more) water.  Enough water to cover the quince. Gently stir to combine.  Bring to a very gentle boil so the sugar dissolves. Turn down the heat to medium-low, cover and gently simmer until the quince soften completely (but not become mushy).  Add the rose water in the final 10 minutes as they simmer.  Remove the quince and turn up the heat to slightly thicken the liquid.  Pour the liquid over the quince.  Allow to cool completely.
The quince will keep in the fridge for over a week or longer.
A QUINCE AND LABNEH PIE
Ingredients:
2 cups labneh
1/2 teaspoon cardamom
2 tablespoons grade A maple syrup, or sweetener of choice
1 teaspoon rose water
poached quince
1 9″ pie shell, fully baked and cooled
pomegranate seeds, as garnish
ground up pistachios, as garnish
1 – In a medium bowl combine the labneh, cardamom, maple syrup, and rose water. Pour the labneh mixture into the pie shell.  Smooth it over. Arrange the poached quince slices over the top.  Garnish with pomegranate seeds and ground up pistachios.  Serve right away or place in the fridge for 15-30 minutes for the labneh to set.
Will keep in the fridge for up to 3 days.