Mama!  The radio just said Air Force One landed at LAX.  Can the President come over for dinner?  Please?!
What's Air Force One, Luna?
Air Force One is the President's airplane, Soleil.  And he's here!  If Mama says it's ok then he can come over for dinner.  Can he Mama?  Please?!  You could make Polo with Tahdig.  I bet he would love it.  Let's call him.  Mama please!!.
How do you know so much things, Luna?
Well, I'm a first-grader, Soleil.  First-graders know a lot.  And I'm going to be the president when I grow up.  And a pop-star.  First I'll be a pop-star, then I'll go to space and then I'll be president.  If you want – when I'm president I can make you mayor or one of those people in a cabinet.
I don't want to be mayor or a cabinet.  I'm going to be a mommy and a teacher when I grow up.
Isn't it strange, Soleil – there haven't been any girl presidents.  Like – at – all. How come, Mama?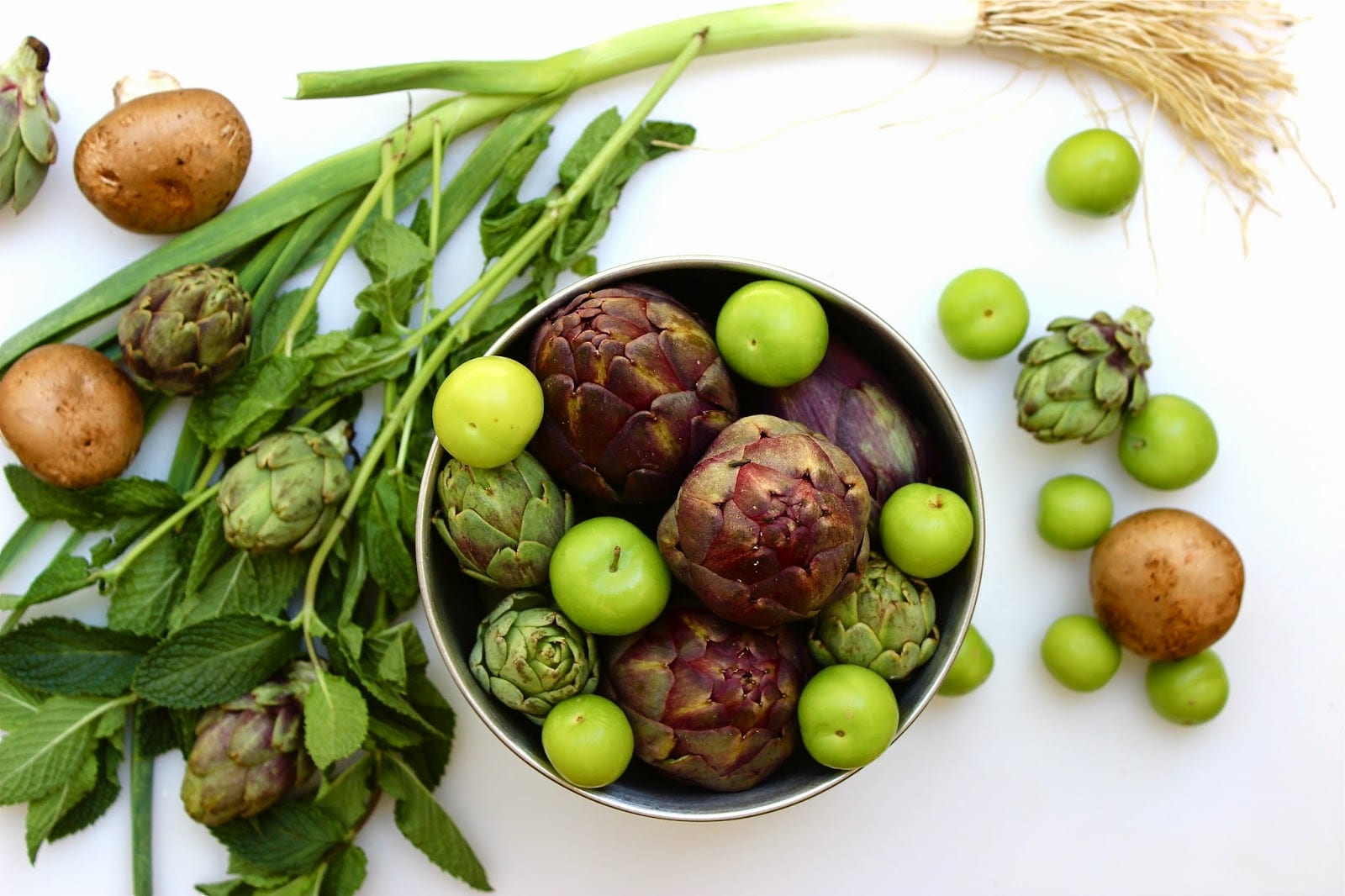 Food serendipity.  Or more like a food puzzle.  Sometimes that's how a meal comes to life around here.  On this particular day it started with a bunch of fragrant mint we got from the overflowing garden at Soleil's preschool.  The next piece easily fell into place with our farm box delivery: parsley, spinach, spring garlic.  Followed with a visit to the Farmers Market:  baskets upon baskets of baby artichokes.  A quick stop at the Persian grocery store and the fate of this evolving puzzle was sealed: sour green plums – gojeh sabz.  A Spring Stew.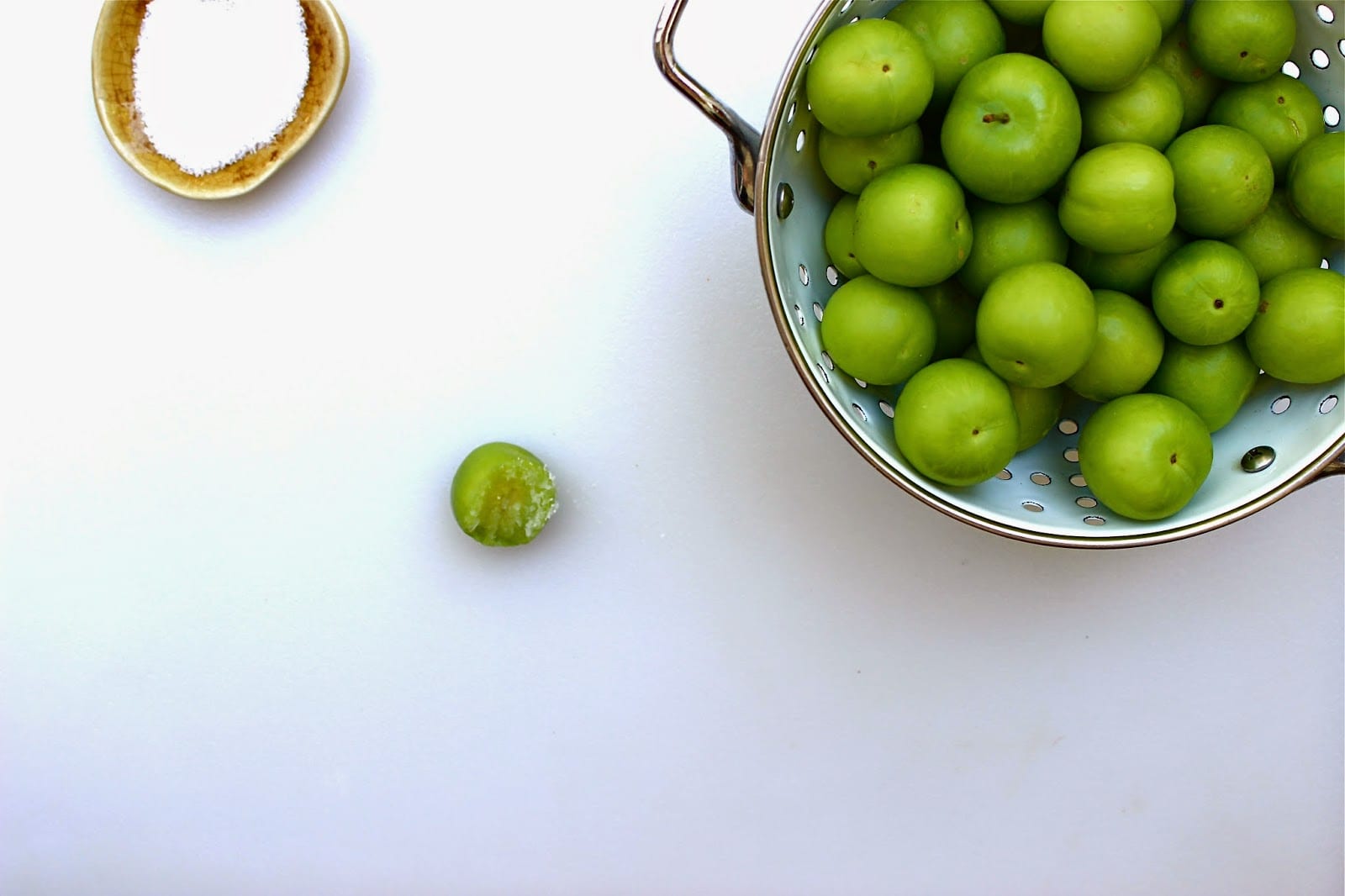 Sour Green Plums – Gojeh Sabz
A sour green plum – also referred to as a green cherry plum – is essentially a plum that's not yet ripe.  Biting into one of these is a delightful explosion of crunchy sourness, making this a highly coveted and sought-after fruit.  Typically it's consumed raw as a snack – just as it is – with a pinch of salt. Take a bite – sprinkle some salt on it – take another glorious bite of spring – repeat process.  Try not to over-consume.  As a child, there was nothing better than to be greeted with a bowlful of Gojeh Sabz after school. Gojeh Sabz is also used in stews or also preserved to make a pickle.  Persians have an affinity for anything sour.  Which is why you will often find something sour or acidic added to a dish, not only to brighten up all the flavors but also to balance out the salt and sweet.  To bring all the flavors to life.  As the Gojeh Sabz slowly simmer away in this stew they soften up and release their tart juice.  I also think they add a nice visual texture to the stew.  Just be mindful of the pit.  If you can't get your hands on sour plums you can always compensate by increasing the amount of lemon or lime juice used in the stew.  Sour green plums are only available for a very brief period in the spring time – before the plums ripen up. They can be found at Persian markets between April and May.  Make sure you ask for them as sometimes they are kept behind the cash register – in view but not within reach – as they were at my market.  They are a hot commodity!  I also spoke with a farmer at the Santa Monica Farmers Market and he said he'll be bringing in sour plums in the next couple of weeks.  Worth asking around and keeping an eye out for them at farmers markets and Middle Eastern grocery stores.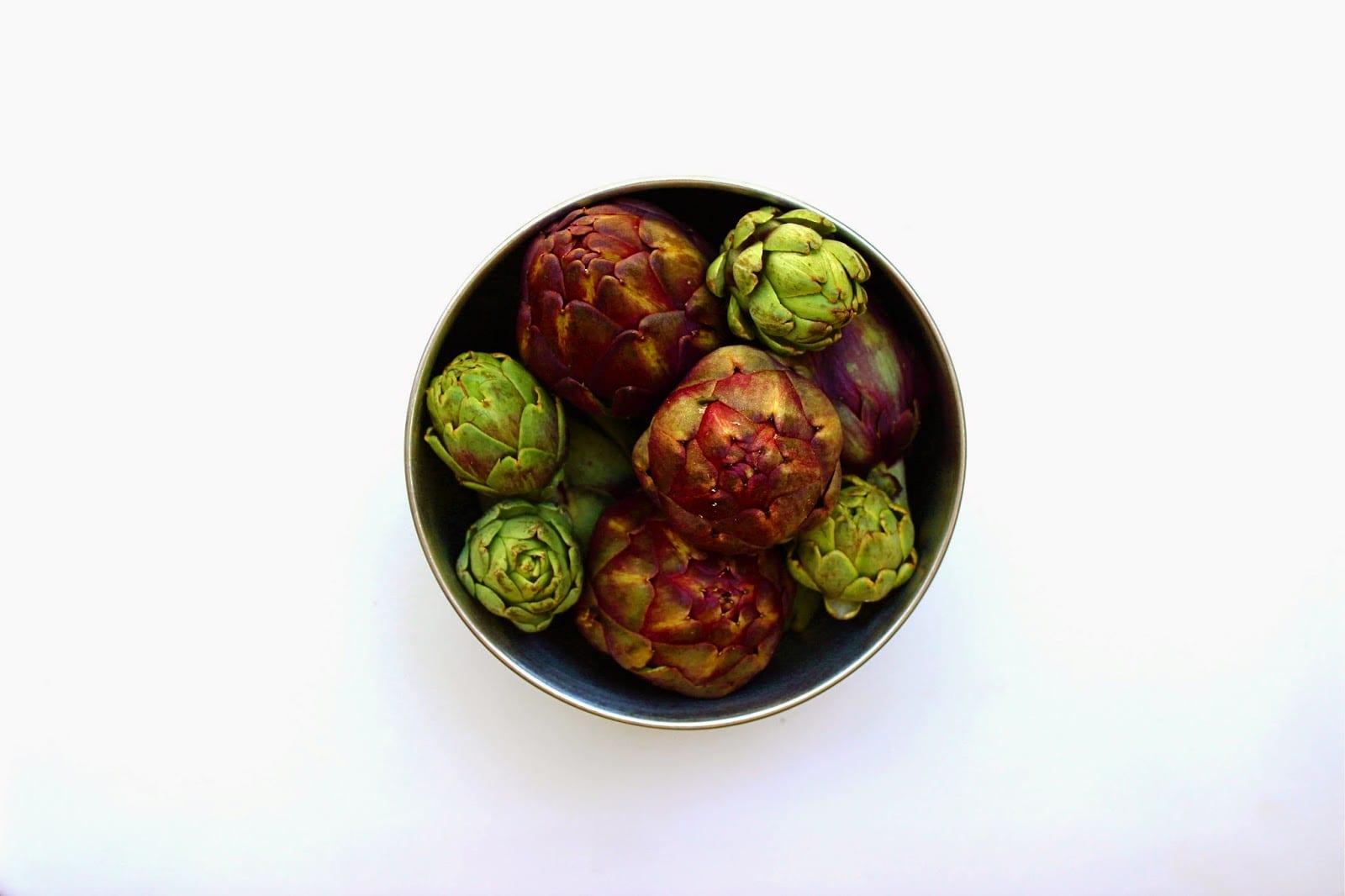 The Persian word for artichoke is Kangar-e-Farangi, which translates to foreign or European cardoon.  In our house we use either their Italian name – carciofi or their French name – artichaut.  Semantics.  Artichokes are very popular in our house.  Luna often claims two whole globe artichokes all to herself.  I was smitten by the baby artichokes at the market and knew they would make a perfect companion to the tart sour plums, the chopped up greens, and the meaty mushrooms in this stew.  But here's the thing – prepping artichokes (much like shelling 4lbs of fava beans) – paring them down to the heart for a stew like this – takes some time and loving dedication.  And certainly not a job for a weekday.  But if you have the time or if you have little helpers that can assist in peeling away the outer leaves then it is well worth it – otherwise feel free to use frozen artichoke hearts.  They work great as well.   As in so many Persian stews, the greens are a necessity here.  Not only for flavor but also because the parsley and mint aid in offsetting the indigestion (read flatulence) that can occur with the use of the sour green plums and artichokes.  Just keep in mind that mint can burn very quickly and too much of it can turn the dish bitter.  This Artichoke and Sour Green Plum Stew is fantastic served over rice of course.  But I also like to serve it spooned over some crusty bread with a dollop of creme fraiche or Greek yogurt.  I've also reheated leftovers with a couple of eggs cracked over it for a quick and delicious lunch.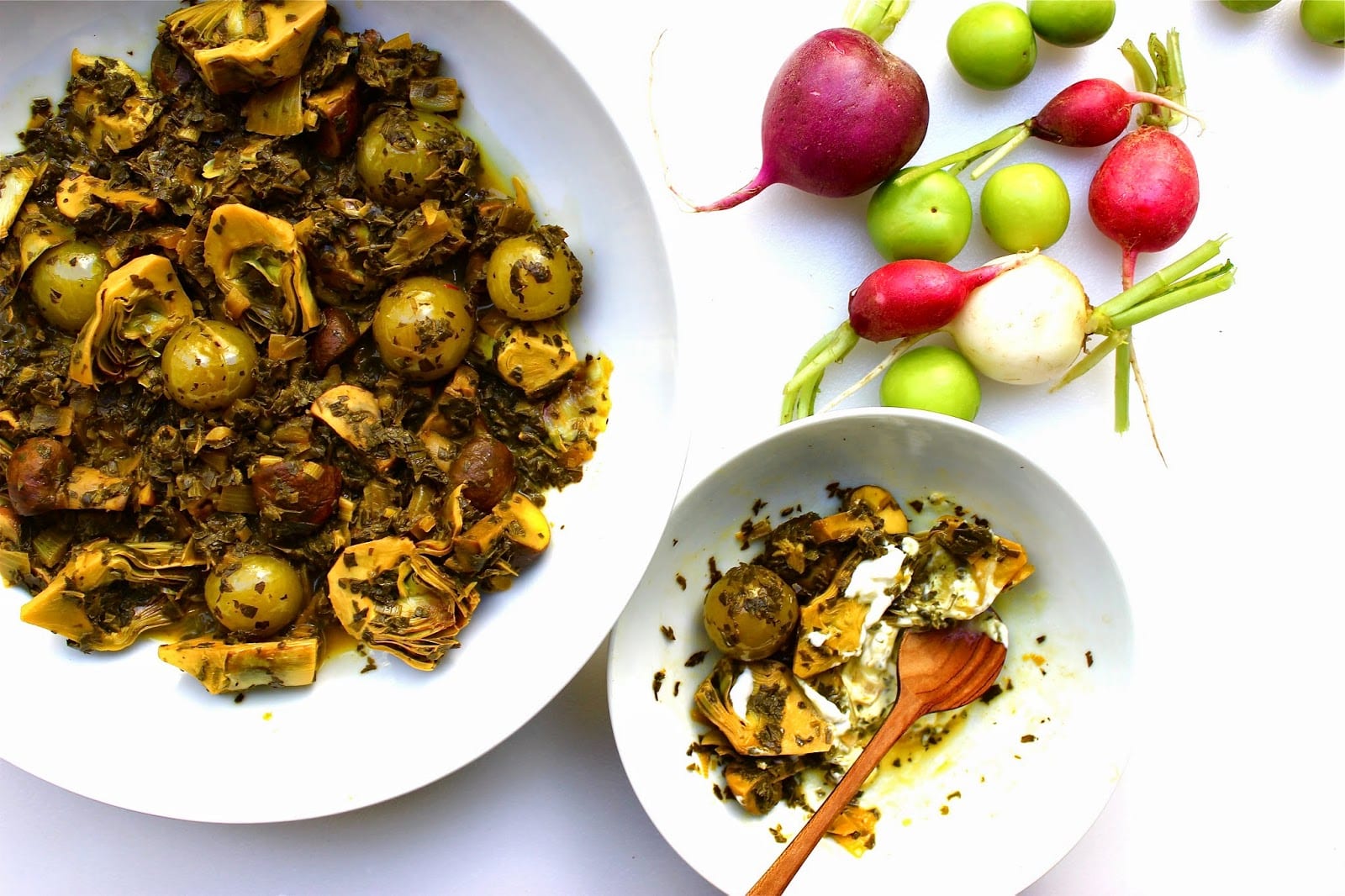 Dear Mr. President,
This is a long shot, I know.  But as the official Social Secretary to a certain seven-year-old I feel obliged to carry through her request (it has actually grown into a fever pitch command) to invite you and your family over to dinner next time you land at LAX.  Stopping by our house might actually be of assistance to you.  For reasons out of your control I'm sure – what with layovers, flight availability, weather delays, flight cancellations – you seem to have a penchant for braving the streets of our fair city at 6pm.  I understand – it cannot be helped.  But you see Sir, everyone and I mean EVERYONE is in their car and on the streets in Los Angeles at 6pm.  So it might not be such a bad idea to avoid this sea of humanity and machinery and join us for some Polo and Tahdig.  I'll bet anything Polo and Tahdig will not be served at the dinner party you are scheduled to attend.  It is also my understanding that you do not enjoy beets.  Neither does my four-year-old.  Beets shall not be served.  With the weather warming up we can also grill some kababs to go along with the rice and enjoy it all with a side of Artichoke and Sour Green Plum Stew.  Not sure what your position is  where artichokes or sour green plums are concerned.  On this side – the seven-year-old loves it – the four-year-old not so much.  Much to discern, much to discuss.
Thank you for considering this invitation.
Yours Truly, A Mom
OK Luna I emailed The President inviting him over to dinner.
Mama – you should have called him.
---
ARTICHOKE, MUSHROOM AND SOUR GREEN PLUM STEW – KHORESH KANGAR-E-FARANGI BA GOJEH SABZ
*There are many resources online with step-by-step instruction on how to prepare artichokes.  Here are a couple: Food52 and theKitchn Keep in mind that the choke (the fuzzy stuff in the middle of the heart) is not fully developed in a baby artichoke so you can skip that part if using baby artichoke.  I also found it helpful to have all my other ingredients prepped before I started prepping the artichokes.  Because you want to get those hearts in the pan as quickly as possible so they don't brown and oxidize.
** If you can't find sour green plums just increase the lemon juice to taste.
Ingredients:
Serves 6
2 tablespoons olive oil
1 medium onion, chopped
1 spring garlic (green parts too) or 3 garlic cloves, chopped
1/2 lb cremini mushrooms, halved or quartered depending on size
*2 lbs baby artichokes, pared down to the heart, or 1 package frozen artichoke hearts, thawed
salt
pepper
1/2 teaspoon turmeric
2 cups chopped parsley (I used about 2 small bunches)
1/2 cup chopped fresh mint (I used about half a small bunch), or 2 tablespoons dried mint
1 cup chopped spinach (I used about half a large bunch)
1/4 teaspoon ground saffron steeped in 4 tablespoons hot water
2-4 tablespoons lemon juice, plus more to taste (have about 4 lemons ready to use both for the stew and for prepping the artichokes)
**14 sour green plums
water
1- Heat olive oil over medium heat in a large saute pan .  Add onion and saute until tender about 8 minutes.  Add the garlic and cook for 2-4 minutes.
2- Add the mushrooms and cook for about 5 minutes until they release all their liquid.  Drain the artichoke hearts (if using fresh ones that have been soaking in acidulated water) and add to the pan.  Add turmeric and season with salt and pepper.  Stir to combine and  saute for about 4 minutes.  Add the parsley, mint and spinach.  Give a quick stir to combine.  Add the saffron water, 2 tablespoons lemon juice (4 tablespoons if not using sour green plums), sour green plums, 1 1/2 teaspoons salt and 2 cups water.  Bring to a gentle boil.  Put lid on slightly ajar and turn down heat to medium-low.  Simmer gently for 20-25 minutes.
3- Adjust seasoning and lemon juice to taste. I added another 1/2 teaspoon salt and another 2 tablespoons lemon juice.  If there is not enough liquid add more water, if there is too much liquid remove lid and allow the liquid to evaporate to liking.  Simmer for about another 10-15 minutes until artichoke hearts are tender and sour green plums have softened (but not mushy!) and released their juices.
Serve over rice or grain of choice with a dollop of creme fraiche or Greek yogurt.  Also fantastic spooned over crusty bread.  Remind friends and guests (and children!) that sour plums have pits in them.
Will keep in the fridge for up to 3 days.