I am that woman.
You know the one.
You've seen her around town.
On the 405 – the 101 – and the 10 sometimes going East – on market days going West.
You've waited patiently and sometimes not so patiently for her to pull out of "your" Whole Foods parking spot.
You've caught a glimpse of her in your rear view mirror at school drop offs and pick ups.
You've pulled up beside her at the stop light.
You know the one.
The one banging her hands determinedly, passionately against the steering wheel, tossing her hair with wild abandon from side to side. And if the windows are rolled down just enough you've heard her euphoric cries.
Yes, yes!  You're killing it, Jason Bentley.
I am that woman.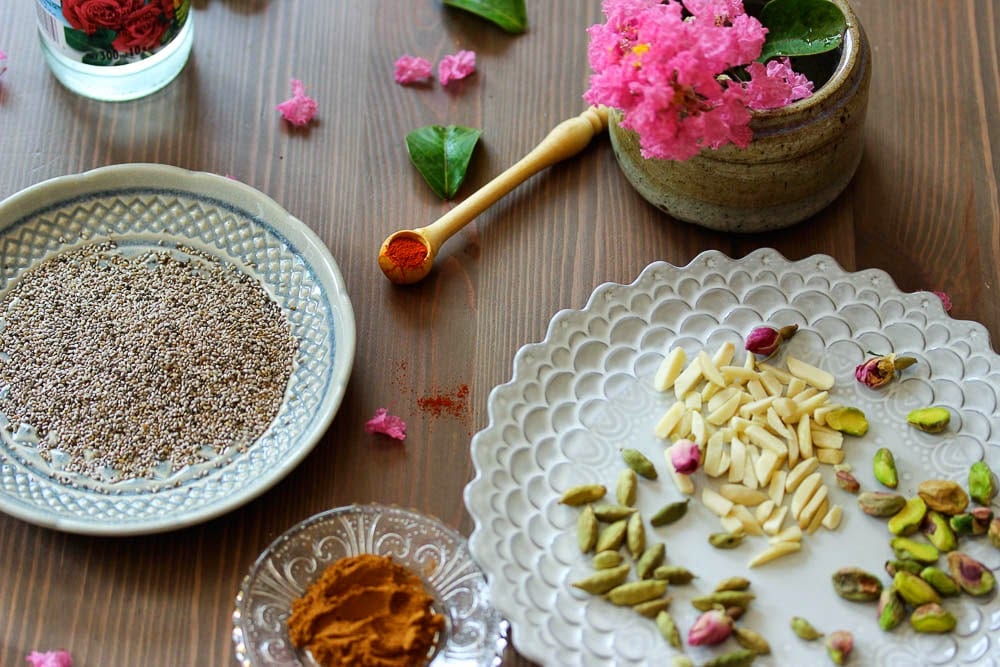 This chia seed pudding is inspired by one of my favorite childhood desserts: Sholeh Zard.  A very rich – vibrant yellow – saffron-infused rice pudding, scented with rosewater and spiced with cardamom and cinnamon.  The same scents and spices are used in this pudding. I've just traded in the rice for the more nutritious chia seeds and really cut back on the sugar content.
Chia seed puddings are one of our favorite go-to breakfasts.  It takes about five minutes to prepare and then you just let it set in the fridge overnight. The next morning you have a tasty, filling and nutritious breakfast, ready to go.  This pudding also makes an elegant dessert or after-school snack. The girls love their chocolate chia pudding made with raw cacao.  And now this saffron and rose-infused pudding has also become a staple and a favorite.  They call it Yellow Flame Pudding.
Chia seeds are an excellent source of omega-3 fatty acids, fibre, and make a great protein source.  They come in white or dark brown/black color and are both equally nutritious.  I like to use the white chia seeds for this pudding for a prettier presentation and to maintain the yellow flame of the saffron.  I find the black seeds tend to turn the color of the pudding to more of a light green.  But the taste is not altered, so feel free to use the black seeds if that's what you have on hand – and if you don't mind a slight color change.
I know saffron is quite expensive and not a spice that many have on hand.  But every once in a while it is worth the splurge.  I find it is also a spice very much like that prized dress or the special china that gets stashed away for that very special occasion that never comes.  And before you know it a whole year has gone by since you last used two strands of saffron for that recipe you came across. While the rest of your precious saffron is still waiting in vain in the back of the cupboard, or sharing long lost love stories with that hunk of parmesan rind you forgot you had stashed away in the freezer.  Don't wait for that special occasion.  Tomorrow's breakfast IS that special day.  This pudding IS that special dessert.  If you have a few strands stashed away somewhere, use them up.  And if not, go get some.  Your saffron and your taste buds will thank you.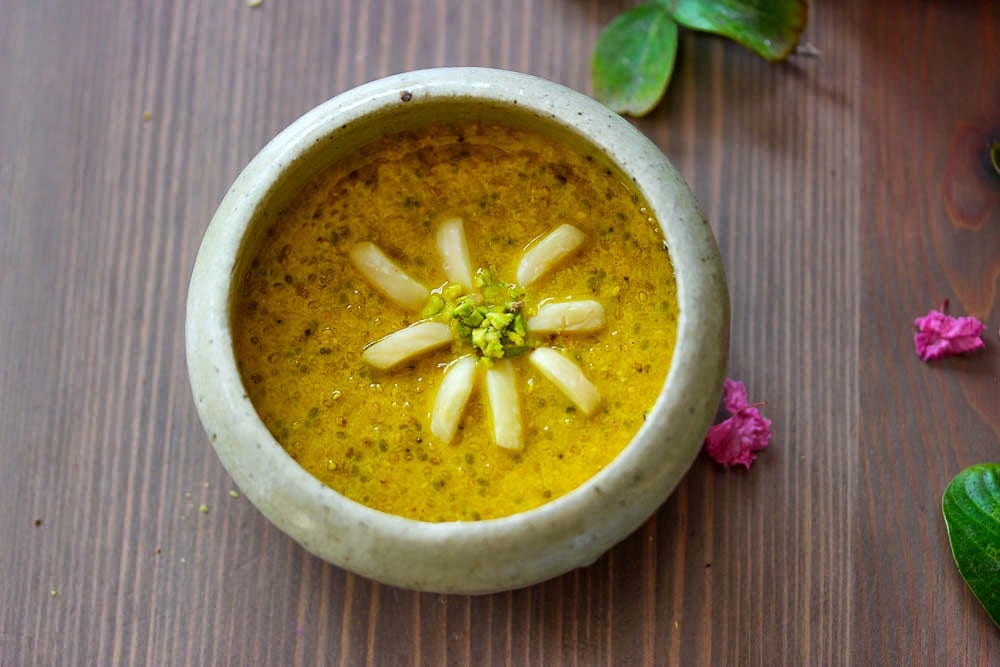 Sholeh Zard  is also known for its beautiful presentation.  The rice pudding is traditionally designed and garnished with cinnamon, ground up pistachios and slivered almonds.  Paisleys, flowers, sayings and patterns are intricately placed on top of the pudding using stencils.  I prefer to keep things simple (I am in no way a craftsy person nor do I aspire to be – much to my children's disappointment) but feel free to get as creative as you like with the decorative garnishes.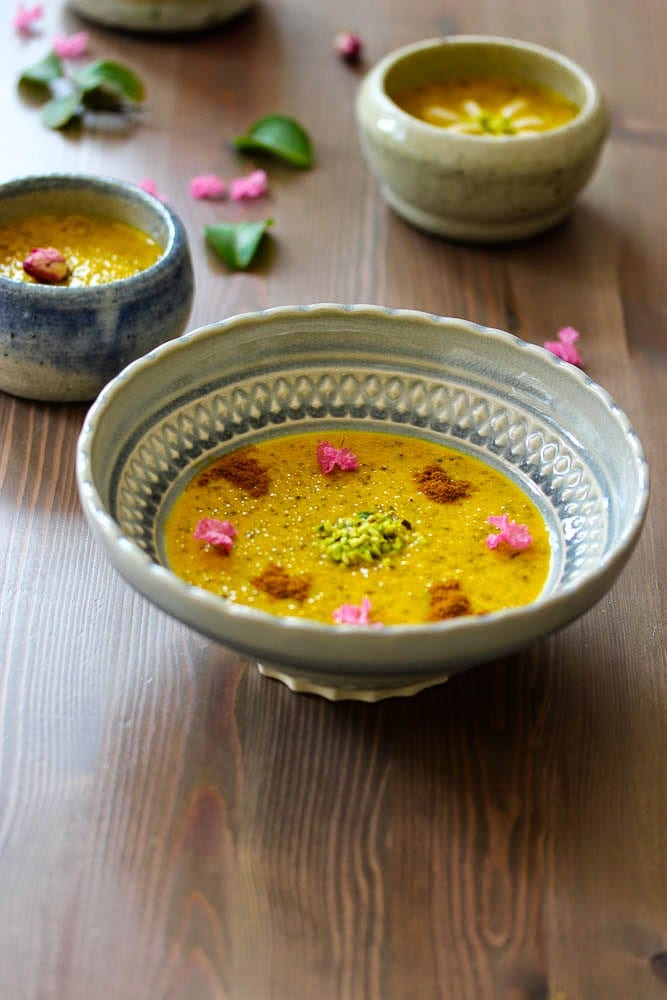 I am that woman.
You know the one.
The one who will text her husband:
Are you listening?  Jason Bentley is on fire.
But more importantly my husband is that man who can confidently support and share in his wife's sheer excitement over an amazing set of music played on the radio.
I am that woman.
You know the one.
The one standing at the kitchen counter on a hot late summers morning.  One hip leaning into the cool quartz surface ever so slightly.  Gently scooping up the last bits of the Yellow Flame Pudding.  Rose water, cardamom and cinnamon working their magic.  A brilliant yellow stain and scattered bits of ancient Aztec seeds reflecting back at me.  All senses on overload.  The beats of Gorgon City (a new find) pound through the speakers.  Then my old confidante Leonrad Cohen shares with me (and only me) that it was almost like the blues.  To be suddenly jolted by Town Called Malice.  And that's when I completely lose it.  Jason Bentley – he has pushed me over the edge.  No longer able to contain it.  I peel myself away from the cool quartz, bounce around a few times (most likely off the rhythm, my husband would tell me) sing along (most definitely the wrong lyrics) and then instinctively reach for the chia seed bag, the spices, the bottle of rose water and frantically start whipping up another batch of Yellow Flame Pudding.
I am that woman.
The three smaller bowls pictured here are hand-made by my dear and super-talented friend Kim.  Check out her fantastic and always entertaining musings on life and more on her blog: Hold Your Horse.
---
SAFFRON AND ROSE CHIA SEED PUDDING – SHOLEH ZARDEH TOKHMEH SHARBATI
Notes:
* You can use white or black chia seeds.  I prefer white chia seeds here to maintain the color of the saffron and for a prettier presentation.
** You can use any kind of sweetener you like here.  I'm partial to maple syrup or honey or dates.  If using dates blend them up with your almond milk first.
Ingredients:
Serves 2-4
1/4 cup white chia seeds*
1 1/4 cup plain almond milk (unsweetend and unflavored)
2 tablespoons grade A maple syrup, or honey, or 4 medjool dates**
1 tablespoon rose water
1/4 teaspoon ground cardamom
1/8 teaspoon ground saffron steeped in 1 tablespoon hot water
cinnamon, as garnish
slivered almonds, as garnish
chopped up pistachios, as garnish
1- Put the chia seeds in a medium sized bowl.  Add the almond milk.  Mix until the chia seeds are well incorporated into the almond milk (I like to use a small whisk).  Add the rest of the ingredients and mix to combine.  Cover and put in the fridge to set overnight (or at least 8 hours).  The pudding should have the consistency of a tapioca pudding.  You can thicken by adding more chia seeds or you can thin out by adding more almond milk.  Adjust sweetness to taste.  Sprinkle with cinnamon and garnish with nuts.
Will keep in the fridge for as long as your almond milk will keep fresh.  But best enjoyed within a day as the the rose scent will dissipate over time.