Mama, this is the best soup in the whole wild world.
Soleil is right, Mama.  Make this soup every day and every night and every afternoon.
Can we have this for lunch tomorrow, Mama?!
Allow me to explain.
Although I'd like to take full credit for all the glowing adulation of my-soup making abilities, I  also need to extend a big thank you to my not so silent cohort – sugar.  The white, refined, not-so-natural variety.  Oh what the heck – let's give credit where credit is due.  Thank you:  corn syrup, red dye #40, blue #1, yellow# 5…
Allow me to explain further.
The girls had had a busy, fun-filled day at a kid function, and had – as expected –  indulged in kid function goodies.  Candy, baked goods, non-food food and more candy.  By the time they were back home the clock edged closer to the precarious 5:30ish hour.
The sun begins to set, their voices reach a feverish sugar-induced shrill; suddenly all goes silent – cue Ennio Morricone.
What was once an inviting family living room is now a barren desert.  The tumbleweeds roll by in the form of half-clothed barbie dolls.  Once sisters, once compadres, forever tied in blood and love – now square off on either side of the rug.  Hands on hips, fire and determination in their eyes, ready to pounce at any moment, at any slight misspoken or misunderstood word by the other.  We have entered no man's land, no man's time…We need to reset.  We need something to make us feel whole again.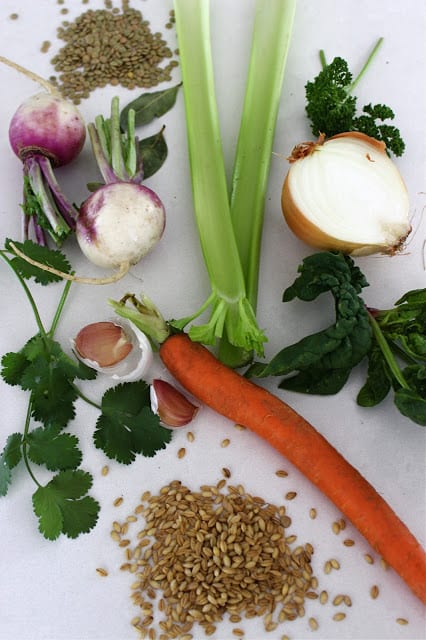 This is our go-to meal any night of the week.  Although quite hearty, we enjoy it all year round.  Barley and lentils are the stars of this soup, followed by a supporting cast of nutrient rich vegetables. Both barley and lentils boast numerous health benefits.  They are both high fiber foods which help in stabilizeing blood sugar levels.  Might explain why this soup was so needed and appreciated after a sugar filled afternoon.
Whenever possible I try and use hulled (or hulless) barley.  This means that the barley is in its whole grain form, and unlike pearled barley hasn't been stripped of its nutrients.  If you can't find hulless barley the next best options would be pot/scotch barley or semi-pearled barley.  Hulless barley is much chewier and heartier than pearled barley so I recommend that you soak the hulless barley overnight to cut down on the cooking time. Soaking the grain also helps in better digestion and absorption of the nutrients.  I also soak the lentils for the very same reasons but not as essential as soaking the barley.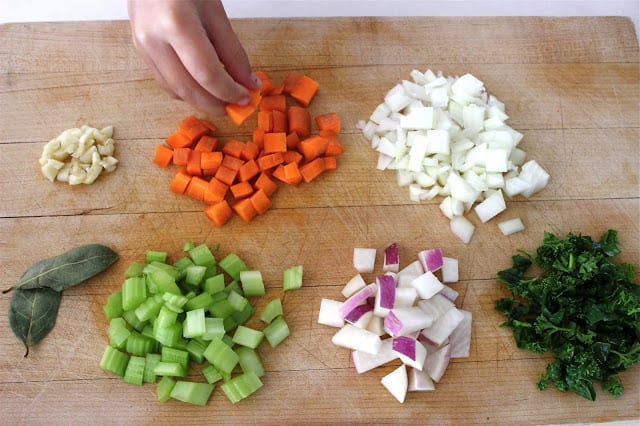 Onion, garlic, celery and carrots are the main vegetables I use.  From there I add any other vegetables I have roaming around in the fridge or available in our farm box. The particular addition of  turnips, spinach, cilantro and parsley seem to work quite well with a certain six and three year old in from the cold of the wild west.  I like to add my herbs and greens right at the very end to maintain their color and fragrance.  But if you're using a heartier green like kale, I suggest you cook it a bit longer.  We like to finish off the soup with a number of different toppings.  Usually it's a drizzle of olive oil and some crunchy salt.  It is also delicious with a sprinkling of parmesan, a dollop of yogurt, or a squeeze of a lemon.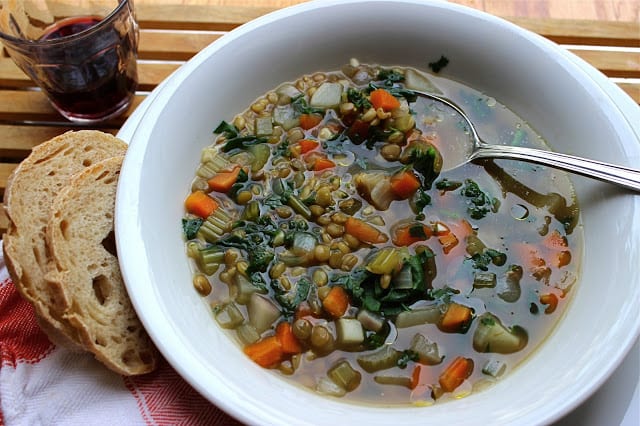 When we start to fall apart, this soup puts us back together again.  It's what grounds us when the whole world seems to have gone WILD.
---
Lentil and Barley Soup
Ingredients:
Serves 8
8 cups vegetable stock or chicken stock*
2 cups water
3/4 cup hulless barley, soaked overnight
1 teaspoon salt plus 1/2 teaspoon salt, divided
1/4 teaspoon ground back pepper
1 medium onion, chopped
4 cloves garlic, chopped
3 fresh bay leaf or 2 dried bay leaf
3 celery stalk, chopped
3 medium carrots, chopped
1/2 cup green lentils, preferably soaked for 4 hours or overnight
4 small turnips, chopped
1/2 bunch spinach, chopped
1 handful parsley, chopped
1 handful cilantro, chopped
* I make my own stock which contains much less salt than store bought stocks.  If using store bought stock, keep this in mind when adding additional salt.  Taste first and add salt as needed.
Drain and rinse barley and lentil.  Put lentil aside.
Put stock, water and barley in a large soup pot.  Cover the pot with the lid slightly ajar.  Bring to boil.
Add bay leaf, salt and pepper.  Turn heat down to medium.  Put lid back on slightly ajar.  Let simmer for 30 minutes, the barley should get softer and chewy.  (In the meantime chop all vegetables and herbs.)
Add onion, garlic, celery and carrot.  Bring everything back up to a quick boil.
Turn heat back down to medium and simmer with lid ajar for 20 minutes.
Add lentils and turnips. Simmer for 10 minutes.  Or until lentil is cooked through. (If you did not soak the lentil, you will need the lentil to cook a little bit longer.)
 Add greens and herbs.  Simmer for 2-5 minutes.
Adjust seasoning to taste.  Serve with favorite topping.
Will keep in fridge for up to 3 days and in the freezer for up to 3 months.