It's not a graceful entrance.
We crash/bang/sing/stumble/dance/pontificate/drag/whine/laugh our way into the house.  Backpacks hit the the floor with a thunderous clatter. Jackets are tossed in one direction – even though the coat hooks are at arms length – and at kid height.  Two sets of shoes fly up and come crashing back down – briefly electrifying the room with a shower of sparkly lights.  The strategically placed shoe cabinet looks on in dismay – hungry for its daily feed (we all know that our slightly OCD-inclined dad of the house will put them away).  Sweaty socks peel off, each in the distinct form of the body part they once enveloped, leaving a trail behind. Newly freed feet pitter-patter their way to the living room.
Girls! Wash your hands first!
And so begins the ritual that is Fun Fridays.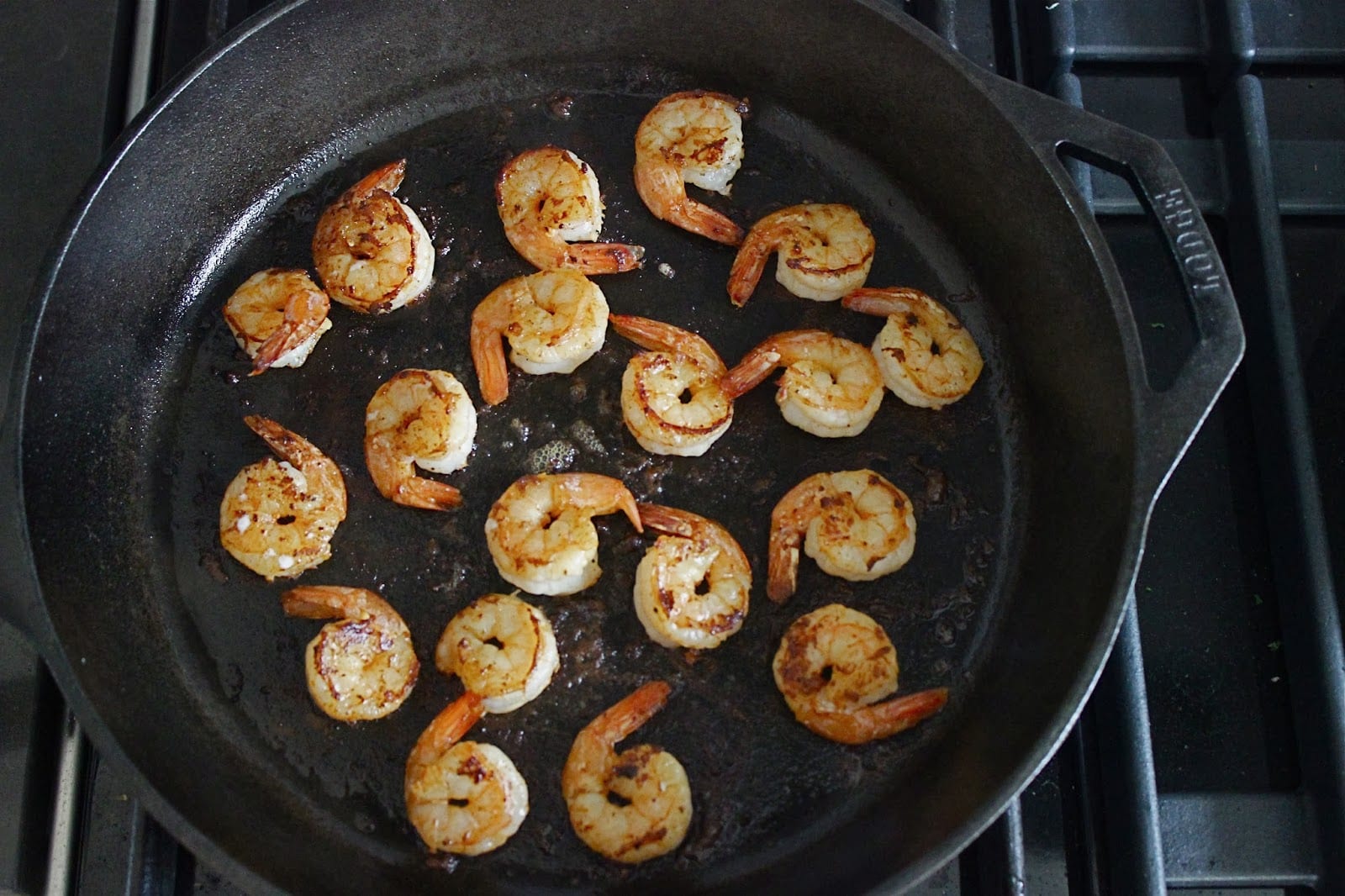 The girls are not yet old enough to have their calendars filled with all-consuming extra-curricular activities and social responsibilities.  It could also be that we have chosen not to fill every extra minute with something to do.  Or that our days are jam-packed enough already.  Most likely – it's because we are just homebodies at heart.  So we have chosen to keep Fridays open.  Anything goes.  Free play time, no homework, time to unwind and just be, and most importantly: time to watch some television.  Seriously – with everything that we pack in a week – wouldn't you want your Fridays to be about all that?
With that laissez-faire spirit in mind I had also decided to join in on Fun Fridays.  With no dinner plans in the works – no Friday Night Loobia Polo – I had resolved earlier in the day that we were going to order in.  Not a regular occurrence in our house but a necessary one from time to time.  I was taking a break from the kitchen tonight.  Oh – yes – I – was.
As the girls settle in to watch Wild Kratts and Doc McStuffins, I take the opportunity to retire to the study for a cocktail and my current obsession/read.  A perfect setting for David Tannis to teach me a thing or two about artichokes (overlooking the minor details that we don't actually have a study, I don't like to drink at 5pm, and David Tannis'  book isn't really about artichokes.  Minor details – minor details.)  I have a vision of how the afternoon will unfold – and I'm sticking to it.  The spot on the couch next to the girls will serve just fine as said study.  Mr. Tannis will teach and inspire, and after all this day is about breaking the rules – so my cocktail of choice is, of course – A Campari Cocktail.
I lovingly set the Campari bottle on the counter with one hand as the other hand reaches back to open the fridge door – in search of a lime to accompany my drink. And thus begins the beginning of the end.  Instantly my eyes fall upon the bountiful bunch of Swiss Chard from our recent farm box delivery.  There I stand – arms outstretched – one hand on a beautiful red-hued bottle – the other hand holding open the fridge door.  My eyes quickly dart back and forth between the two adversaries.  This should be an easy choice – the plan is already in motion – I'm not cooking tonight – it's cocktail hour – the study – the book – the drink – the vision.  But the unwelcome voice of reason starts wiggling its way in.  The chard should be used soon – if I drink now I'll get sleepy and cranky – and the truth is – I simply can't take my eyes off those dark leafy greens.  I turn and face the Campari bottle – apologetically and gently nudging it to the edge of the counter.  I turn back and face the fridge.  I give my hair a quick flick, lower my eyes slightly, feel a coy smile creep up the sides of my mouth, extend my arm and grab the chard.  It's on.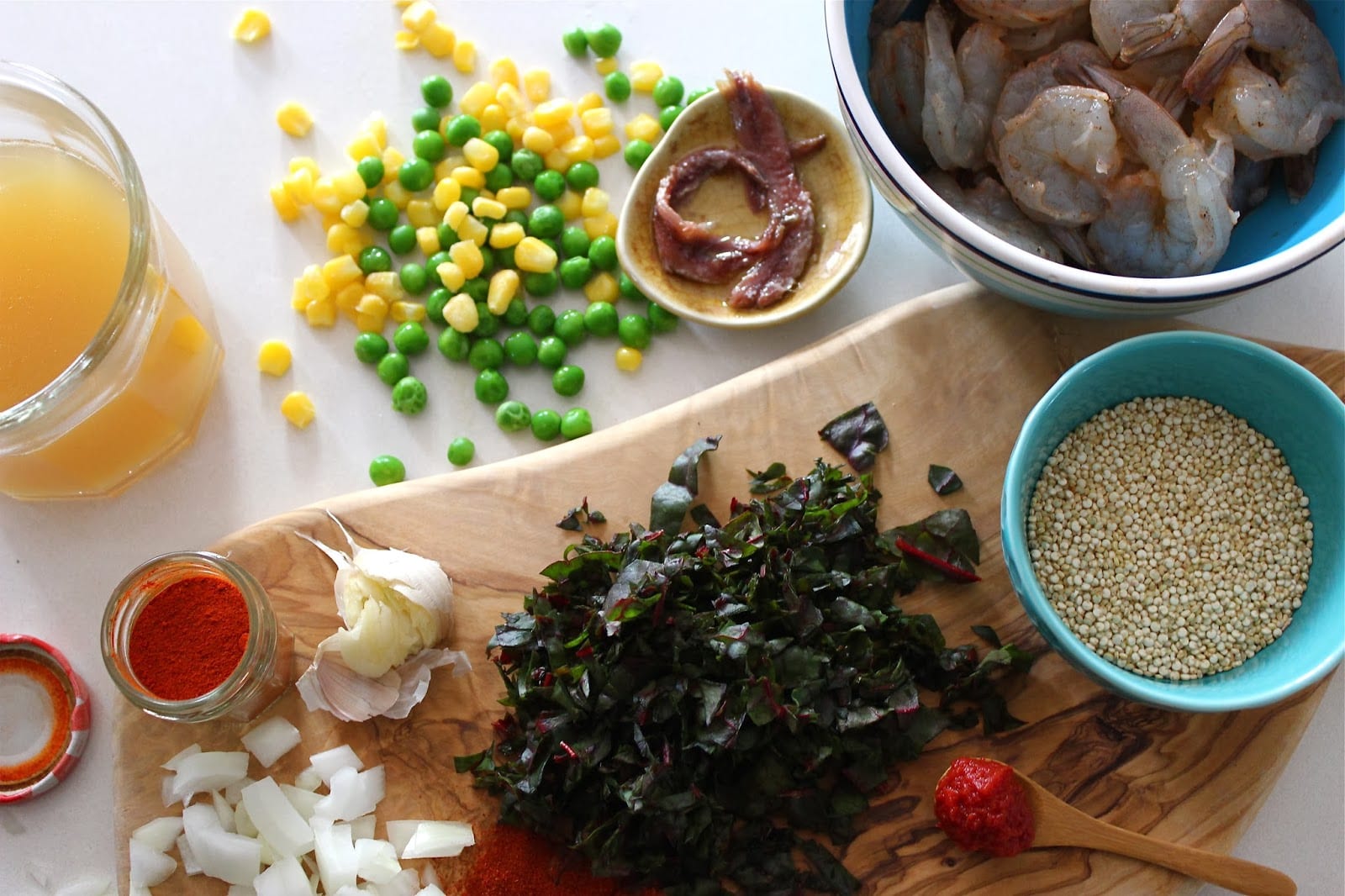 Everyone is always looking for a quick go-to recipe.  This quinoa "paella" is ours.  Quinoa is a superfood commonly used as a whole grain substitute.  It is technically not a grain but an immensely nutrient rich seed – which makes it a great choice for those looking for a gluten-free grain alternative.  It also makes for a perfect vegan choice since it is considered a complete protein – containing all nine essential amino acids. Quinoa has been a staple in our house for some time now, right up there with our beloved rice and pasta.  Drew loves it.  The four-year-old loves it.  I still like it and consume it in abundance but truth be told, I have somewhat grown tired of it (interesting how I never seem to tire of rice and pasta…hmm).  And the seven-year-old is on the brink of jumping the quinoa ship completely.  So I'm always looking for ways to change it up and make it a little more interesting – like adding it to our morning oatmeal (a great way adding much needed protein to our breakfast), working it into soups, salads – recreating it any number of ways, like paella.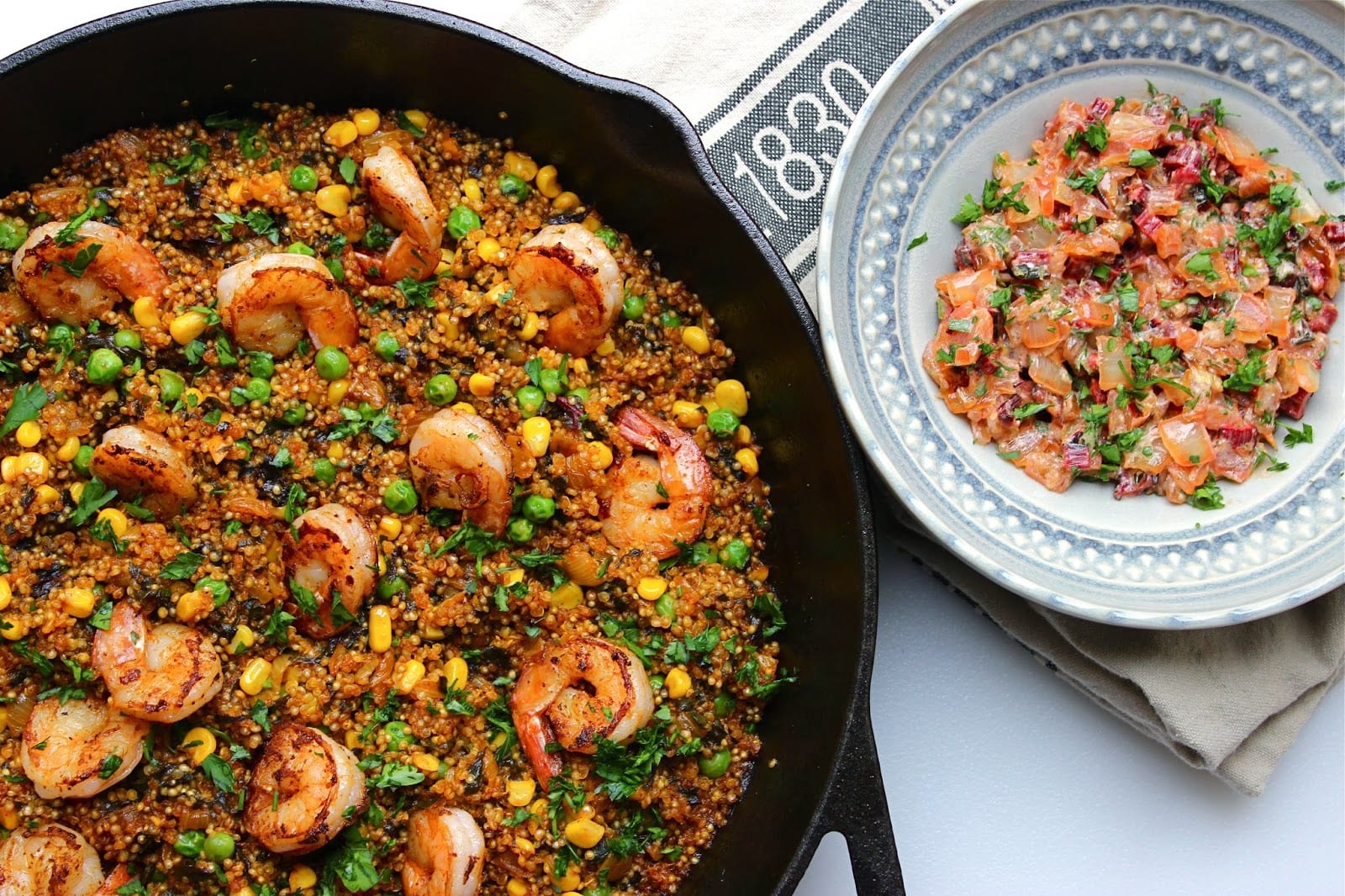 This dish is inspired by the traditional Spanish paella.  The best part about it is that it can essentially be made with whatever you have on hand and can be prepared fairly quickly.  I usually get a lot of help from my freezer goods.  You can use chicken, other types of seafood, sausage, crack an egg on top, or keep it vegetarian (I'm dreaming of mushrooms, asparagus..you get the picture).  I usually have a bag of frozen shrimp saved for those last-minute meals.  And as is the case with all our seafood consumption, I always make sure to check in with Seafood Watch.  They also have a great app which is very helpful when you're at the seafood counter and not sure about the quality, safety and sustainability of what you're about to purchase.  Our other freezer staples are bags of frozen peas and corn.  Perfect for the makings of a paella.  Whenever possible I also try to sneak in our dark leafy greens like the chard here but you could also use kale or spinach.  The trick here is to finely chop up the greens or cut them into thin ribbons so they get well-incorporated into the dish; also ensuring no complaints from the little ones. I don't use the chard stalks in the paella but instead quickly saute them up in olive oil with some chopped onion, garlic and lemon zest.  Then stir in a little yogurt, a hit of parsley and enjoy it as a salsa alongside the paella.  This also makes a great dip you can serve with grilled or sauteed shrimp.
The basis for a traditional paella is the sofrito – the sauce made up of sauteed aromatic vegetables like onion, garlic, green or red peppers, and tomatoes.  I have very loosely recreated a sofrito here, leaving out the peppers (you can include peppers if you like) and adding anchovies.  Now – before you balk at the idea of the little salty fish – I assure you that you will not be able to taste them in the final product – they are used here to add a depth of flavor, a je ne sais quoi, an overall yumminess to the dish.  If you're still not convinced, you can leave them out but just know you'll be missing out.  In keeping with a paella preparation methods I add the quinoa to the sofrito for a couple of minutes before adding my cooking liquid.  This allows the quinoa to toast a little, drawing out more of its flavor.  Once the cooking liquid is added I cover the pan and allow the quinoa to cook, uncovering for the last 5 minutes of cooking time. The quinoa should be fluffy, not soggy or mushy.  Right before serving, garnish it with a little chopped parsley and make sure to squeeze a juicy lemon over the whole thing.  And serve alongside the chard stem salsa, or some guacamole, and you know if I can work in a dollop yogurt on top I will.  Delicious goodness in one pan.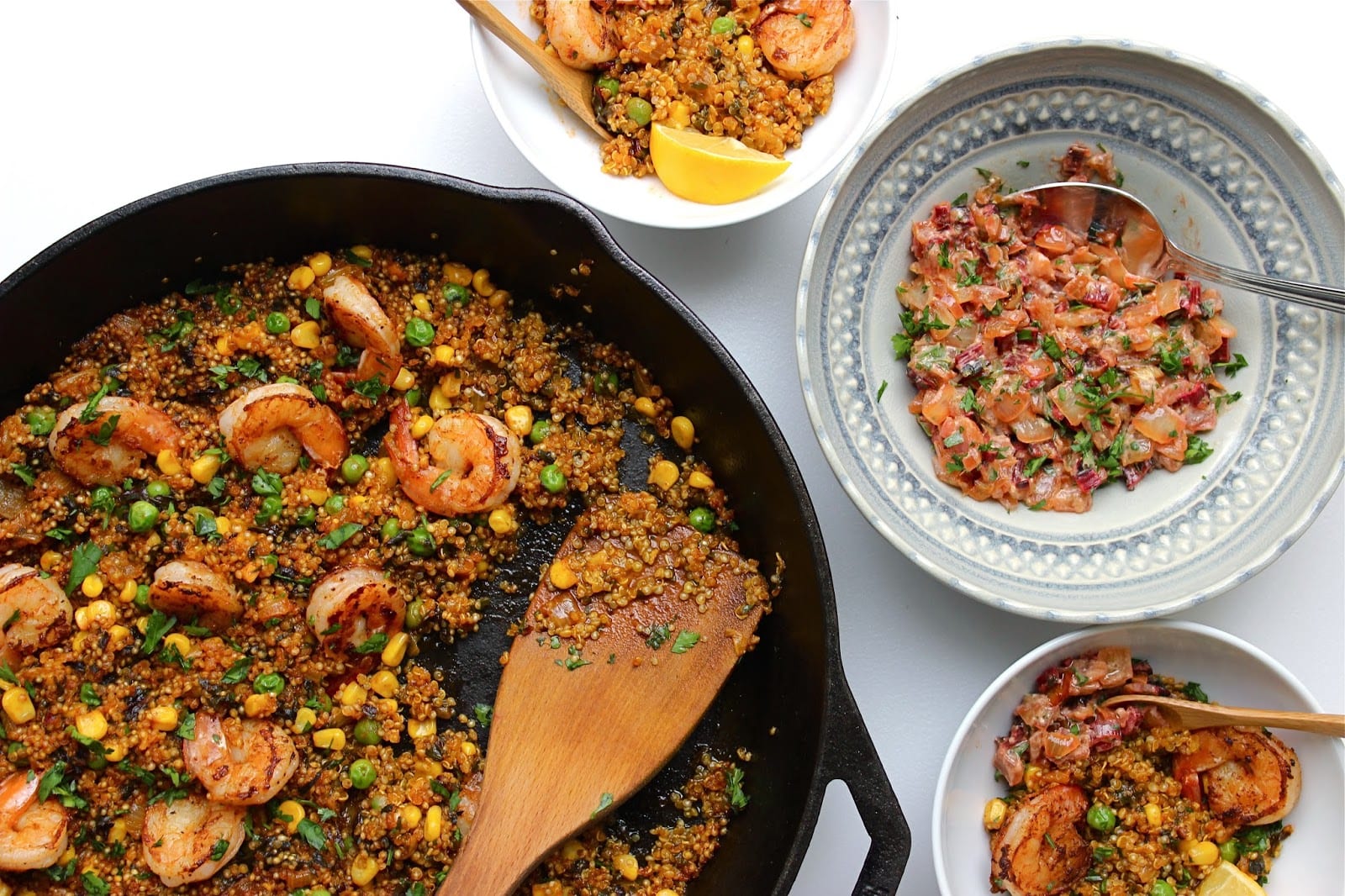 I lift the heavy cast iron off the stove – turn – and come face to face with Drew.  Home just in time.
Thought you could use this.  It is Friday after all.
He presents me with a glorious tumbler of Campari Cocktail.  I look to him – to the drink – back at the heavy paella pan precariously balancing in my arms – the room starts pounding with this hip shimmying beat.  I give my hair a quick flick, lower my eyes, place the pan on the counter, give my husband a teasing smile and yell out:
DANCE PARTY
The four of us spontaneously bounce, wiggle, jiggle, shimmy, taking turns showing  off our moves.  And then follow the sock trail back to the kitchen table to tuck into some shrimp and quinoa paella.
Happy Fun Fridays.
Happy New Year.
---
SHRIMP AND QUINOA PAELLA
Ingredients:
Serves 4-6
1 pound shrimp, peeled and deveined, (thawed if frozen)
1/2 teaspoon paprika, divided
1 lemon, halved
4 tablespoons olive oil, divided
1/2 a medium onion, chopped
1 clove garlic, chopped
2 anchovies in oil
2 tablespoons tomato paste
1 cup quinoa, rinsed
2 cups chicken stock or vegetable stock or water
1/2 bunch swiss chard, off the stem and finely chopped
1/8 teaspoon ground saffron or a pinch of saffron threads
1/2 cup frozen green peas, thawed
1/2 cup frozen corn, thawed
salt
pepper
parsley, chopped for garnish
1- In a medium sized bowl season shrimp with salt and pepper, 1/4 teaspoon paprika and the juice of half a lemon.  Toss to coat well and set aside for 10-30 minutes if you have time otherwise cook right away.
2- In a large pan (cast iron works well) heat 2 tablespoons olive oil over medium/high heat.  Add shrimp and cook for 2-3 minutes on each side.  Do in batches if necessary. Make sure you don't over cook the shrimp.  Transfer shrimp to a plate and set aside.
3- Turn the heat down to medium and add the remaining 2 tablespoons of olive oil.  Add onion and cook until the onion softens 4-6 minutes.
4- Add garlic and anchovies.  Stir and gently break down the anchovies.  Melting them into the onion and garlic.  About 1 minute.
5- Add the tomato paste and stir into the onion, garlic and anchovy mix. Keep stirring until you get a fragrant sofrito.  About 2-4 minutes.
6- Add quinoa and stir into sofrito.  Toast for 2 minutes.
7- Add swiss chard, stock or water, remaining 1/4 teaspoon of paprika and saffron.  Give a quick stir to incorporate and turn the heat up and bring to a quick boil.  Cover and lower heat.  Simmer for about 10 minutes.
8- Remove lid.  Add the green peas and corn.  Adjust seasoning if necessary.  I usually add some salt and pepper.  Warm the peas and corn through about 5 minutes.  Add the shrimp back to the pan the last 2 minutes of cooking and warm through.  Garnish with parsley and a squeeze of lemon over the whole thing and serve with the swiss chard stalk salsa.
SWISS CHARD STALK SALSA
Ingeredients:
1 tablespoon olive oil
1/2 medium onion, chopped
1 clove garlic, chopped
Swiss chard stalks, from about half a bunch, chopped
zest of 1 lemon
1 tablespoon yogurt
a handful parsley, chopped
salt
pepper
1- Heat the olive oil in a small pan over medium heat.
2- Add onion with a small pinch of salt and saute until the onion softens a little.  About 4 minutes.  Add chard stalks, garlic and lemon zest.  Saute until stalks soften a little and become fragrant.  About 5-8 minutes.
3- Remove from heat and allow to cool a few minutes.  Transfer to serving bowl.  Stir in yogurt, parsley, and squeeze of lemon.  Season with salt and pepper to taste.  Add more yogurt or lemon juice to taste.  Serve with Shrimp and Quinoa Paella.