You never see the sun in the night, but once in an ice cream while, you see the moon in the daytime. – Luna
BBQ sauce and pork ribs are not exactly part of my everyday cooking vernacular.  I am not what you might call a BBQ sauce/ribs enthusiast – not even close.  I know there are cookbooks, TV shows and competitions dedicated to this mighty American tradition.  Somewhere along the line I've learned that there are distinctions and differences, and pride to boot, between Texas BBQ, Mephis BBQ, North Carolina, South Carolina, Kansas City…BBQ.  What those differences are – I'm not sure.  This is not that story.  It's not a particularly Persian story either.  It's more a mother's everyday story to get dinner on the table, working with what she's got in the pantry and fridge.  A simple story.  At least that's how they all begin.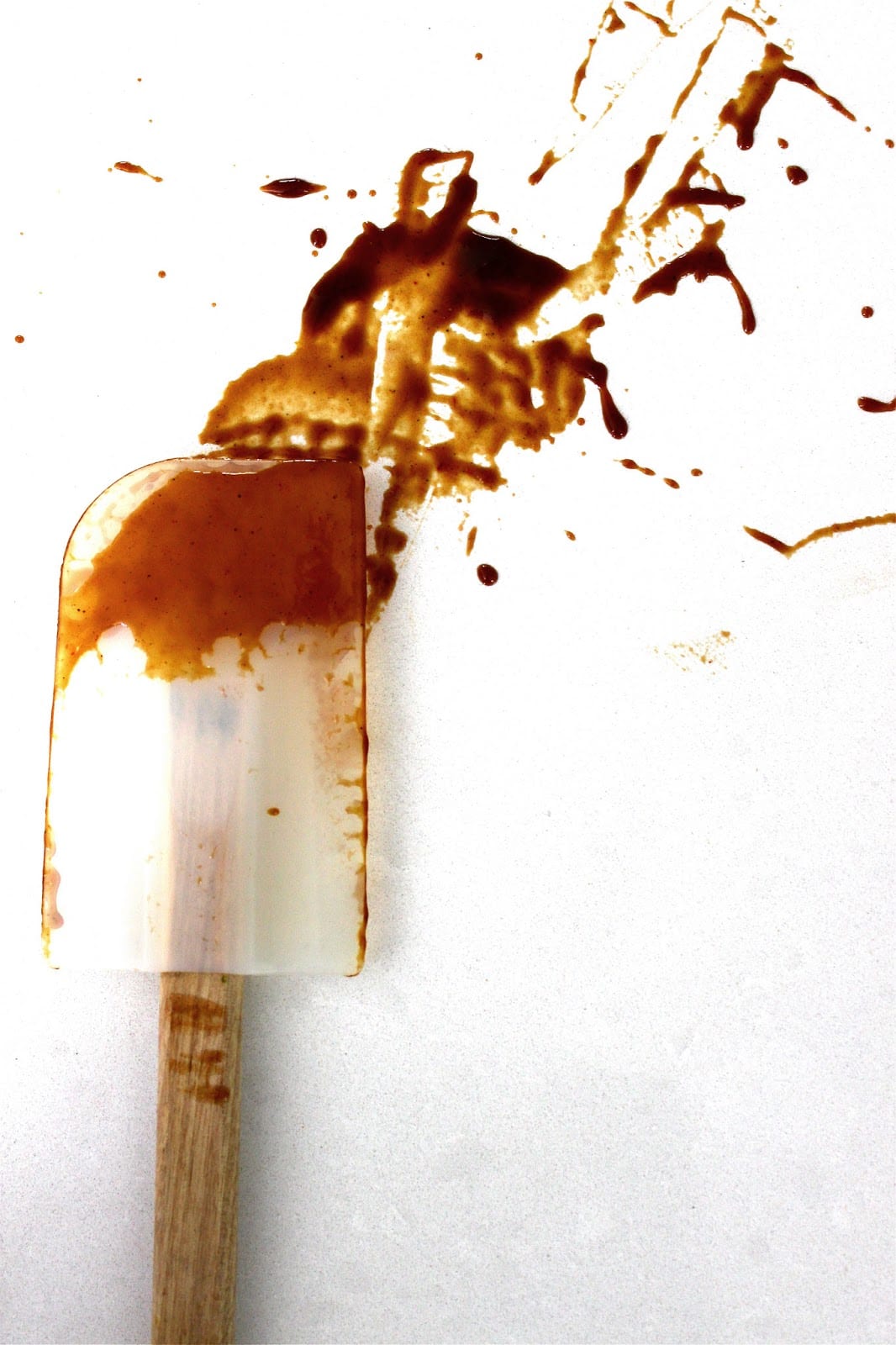 One of our quick, last minute, pre-made, go-to meals used to be the fully-cooked baby back pork ribs in smoky BBQ sauce from one of our local stores.  It was a hit with the girls.  All we had to do was heat it up in the oven or on the grill, roast some sweet potatoes, toss a salad and call it a night.  It was the meal we were about to enjoy the night Soleil fell and we thought she had broken her wrist (she hadn't).  It was the meal we quickly had on the table the nights we had unexpected company.  The meal that required extra napkins and lots of finger licking.  That is – until the fateful night I read this.
Drew and I are both avid magazine lovers.  Consumer Reports is considered an exciting, cozy, bedtime read.  So when CR talks about "bugs in pigs" and "pigs on drugs," that gets our attention.  This news was actually not all that shocking.  Whenever possible we try and buy all of our meats organic, grass fed, antibiotic-free, hormone-free, local, etc.  But this practice had not applied to our baby back pork ribs.  So it got me thinking.  How difficult would it be to make our own organic, antibiotic-free, pork ribs with a homemade BBQ sauce.
Down the internet vortex I went.  Once I came up for air I was armed with a little more knowledge.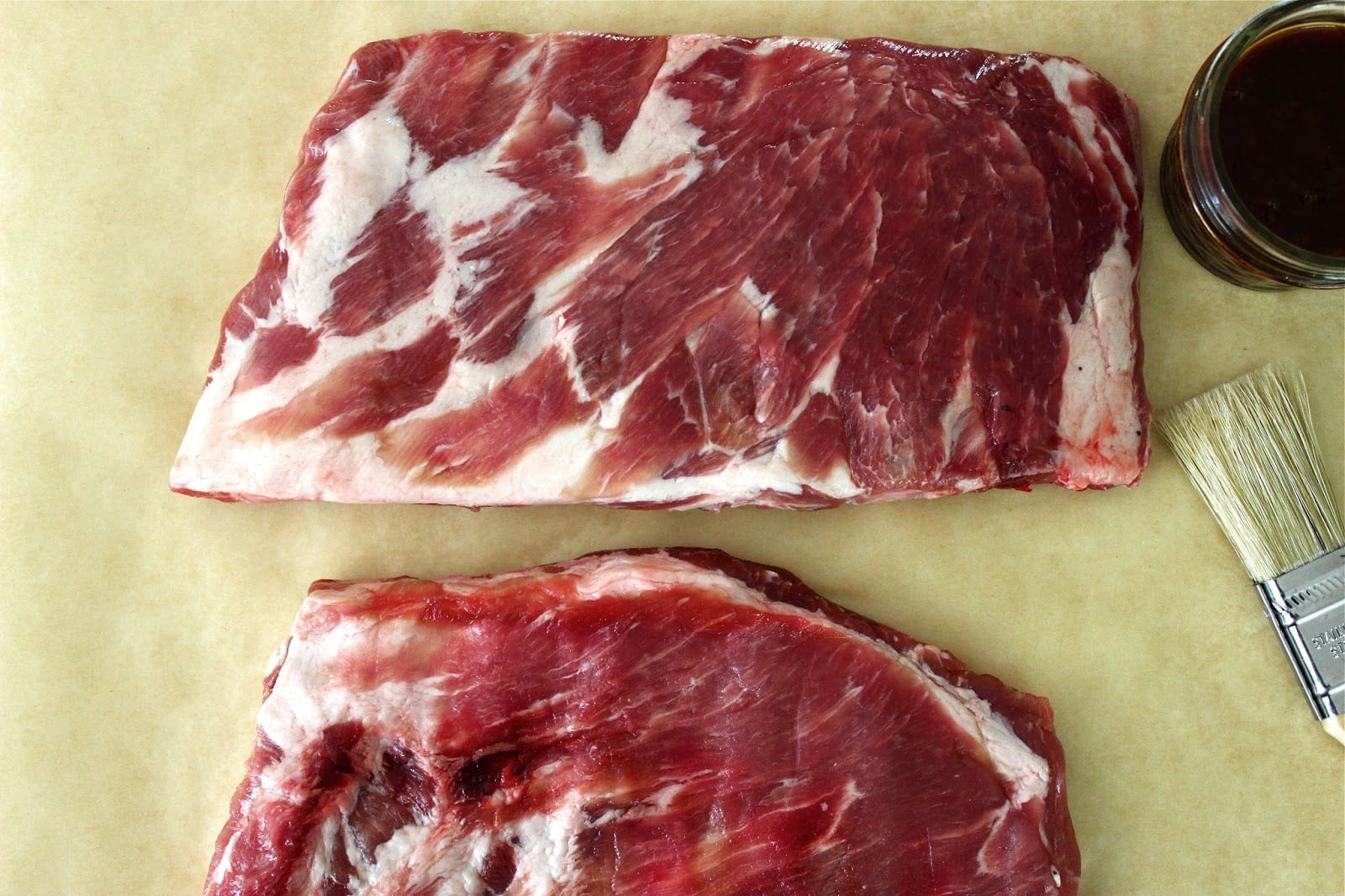 There are a few different cuts of pork ribs.  So far I have worked with the baby backs and the St Louis style.  I found the St. Louis style (pictured above) slightly meatier and fattier, and the baby backs slightly more tender.  Both have been a hit and turned out delicious.  But organic pork ribs don't come cheap.  What I also learned is that when preparing the ribs you need to remove the membrane (the thin layer of skin on the back of the bones).  You can do this yourself or ask the butcher to do it for you.  I also like to trim most of the excess fat. Although the fat provides much of the flavor, none of us (especially the girls) like the chewy texture once cooked.
As for the cooking, I've learned low and slow is the key to tender, fall-off-the-bone meat. But since this was going to be a midweek meal, I certainly did not have the time or patience to babysit pork ribs cooking in the oven or on the grill for hours.  So I turned to my most trusted low and slow kitchen appliance – the slow cooker.  After 5 hours on high (or 8 hours on low), not only were the ribs fall-off-the-bone tender but the whole house smelled fabulous.  I finished off the ribs under the broiler for a couple of minutes to get that slightly crisp and grilled effect.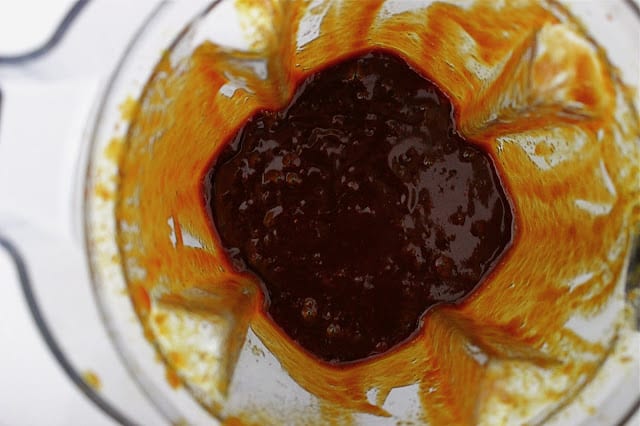 The preparation of the BBQ sauce is where my worlds started to collide.  After 3 failed attempts (read 3 separate trips to the store) to buy bottled BBQ sauce that would not be too spicy for the girls, and not loaded with a bunch of ingredients I did not recognize as food, I gave up and resolved to make that myself too.  It turns out I had most of the ingredients needed to make BBQ sauce, either in the pantry or in the refrigerator door.  And it was there, at the perpetually overstuffed fridge door that I was suddenly lifted out of my cooking malaise.  To reach the worcestershire sauce I had to move the pomegranate molasses out of the way.  And that is when I hit my cooking high.  The fog lifted.  I was filled with adrenalin as I poured the pomegranate molasses into the blender, along with ketchup (worlds collide!) and reached for other familiar spices that I usually use to compliment pomegranate molasses – cinnamon, turmeric, cumin.  The result was a tangy and slightly sweet – finger licking good – concoction; one most definitely approved of by the girls.  I happened to have a sour pomegranate molasses on hand, and I added 2 tablespoons of honey to the sauce to cut the tang a bit. If you use a sweeter pomegranate molasses, start off with one tablespoon of honey, try it and add more honey according to taste.  Pomegranate molasses is readily available now at most stores or at any Middle Eastern market.  The sauce also works great with chicken, lamb chops or Portobello mushrooms.  It also freezes really well.  So whatever you don't use you can portion out and put in the freezer for another time.
Perhaps this is a story about when my American kitchen met my Iranian ingredients.  Something that happens on an everyday basis.  And I am here to testify that this encounter is quite harmonious, peaceful, and  delicious.  A little food diplomacy can go a long way.  And although we might not be indulging in pork ribs smothered in pomegranate molasses BBQ sauce all the time – we will be enjoying them once in an ice cream while.
Enjoy your Memorial Day weekend.
---
POMEGRANATE MOLASSES BBQ SAUCE
Adapted from theKitchn
Ingredients:
Makes about 2 cups
1/2 cup pomegranate molasses
1/2 cup organic ketchup
1 teaspoon unfiltered apple cider vinegar
1 teaspoon worcestershire sauce
1 tablespoon organic unsulphured molasses
1 – 2 tablespoons organic raw honey, according to taste
1 shallot, roughly chopped
1 clove garlic, roughly chopped
1/2 teaspoon cumin
1/4 teaspoon cinnamon
1/2 teaspoon turmeric
1/2 teaspoon salt
1/4 teaspoon fresh ground pepper
Put all ingredients in a blender.  Blend until smooth. The BBQ sauce can be kept in the fridge for up to 3 days and frozen for up to 3 months.
PORK RIBS PREPARED IN THE SLOW COOKER*
Ingredients:
Serves 4
1 rack baby back or St. Louis pork ribs, about 2 pounds, membrane removed, extra fat trimmed, cut in half to fit in the slow cooker
salt
fresh ground pepper
olive oil
pomegranate molasses BBQ sauce, about 1 cup
1-  Season both sides of ribs with salt and pepper.  Lightly brush both sides with pomegranate molasses BBQ sauce.  Oil the bottom of the slow cooker with olive oil.  Place ribs inside.  It's ok if they overlap.  Cook on high for 4-6 hours (depending on slow cooker) or low for 8-10 hours (depending on slow cooker).  Mine were done on high after about
4 1/2  hours.
2- Brush ribs with more BBQ sauce (as much as you like) and place under broiler on High for 2-5 minutes.
Serve immediately with extra BBQ sauce on the side for dipping.
* The ribs can also be made in the oven or on the grill.