Confession:  I meant to share this Pistachio Bakhlava Cake with you in time for Valentine's Day.  It didn't happen.
Confession:  I also had every intention of sharing another delicious bite of goodness with you in time for the start of the Olympics. But that required making paper-thin slices out of a big hunk of jicama.  Which in turn required getting the mandolin out of solitary confinement and declaring with it a temporary truce. You see, my history with said mandolin is a troubled one.  What once seemed so bright and promising a future quickly turned to failed experiments and useless chunks of vegetables.   But then I thought – who knows, this might be the start of a new era for us. Maybe this time, with better communication – mutual respect – some give-and-take on both our parts…But alas, tragedy once again.  What was supposed to be a graceful duet quickly turned into a wrestling match, concluding with my worst self rearing its ugly head as I hurled profanities and mangled pieces of jicama across the kitchen.  And the mandolin just sat there – lifeless –  sharp and indifferent, and perhaps a bit smug.
Confession:  The ice storm pictures are from this past December in Toronto.  It was a sight to behold – especially for those of us from water-deprived Southern California.  We were some of the lucky few who had power and heat, and simply got to marvel at the beauty and majesty of it all.  Frozen.  Some of the shots are mine, some are Ramin's.
Confession:  I don't really like to bake, nor do I have much of a sweet tooth.  Salty and sour is my late-night indulgence.
Confession:  I have been baking a lot lately.
Confession:  I have been enjoying baking as of late.  Much to my reluctance.
Confession:  I have been consuming more baked goods as of late.
Confession:  I have been enjoying consuming said baked goods.  Especially this Pistachio Bakhlava Cake.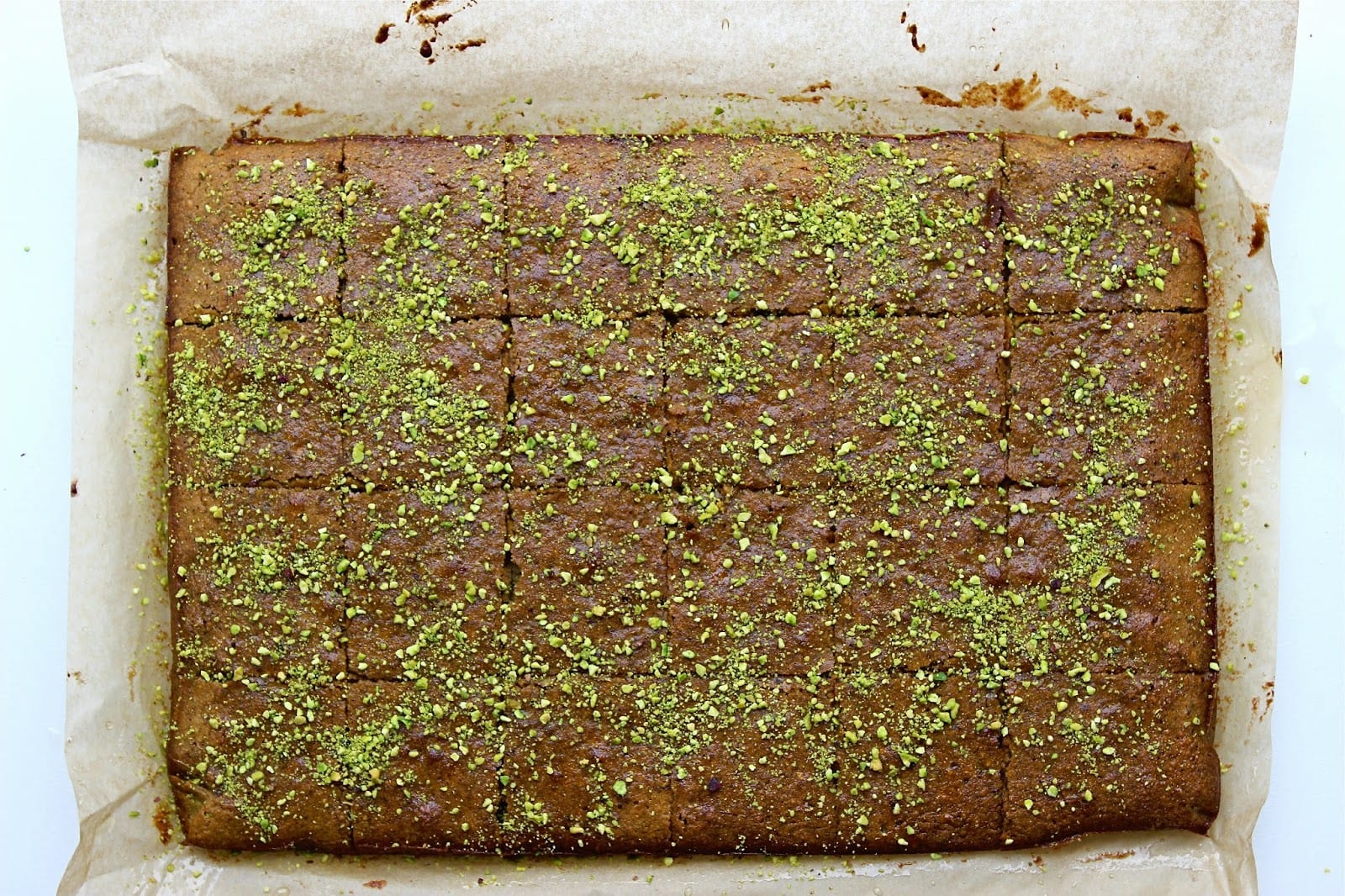 Bakhlava cake is my mom's go-to baked good.  She always has some on-hand in the freezer to serve with coffee or tea when unexpected company drops by.  The perfect little afternoon or after-dinner sweet treat.  Lately the girls have been enjoying it as an after-school snack with a cup of camomile tea.
Bakhlava cake has the same flavors as traditional bakhlava – nuts, fragrant rose water – but without all the work of turning out layers of flaky puff pastry (my newly found baking enthusiasm and patience does not encompass all that work). Traditional bakhlava is also quite rich and decadent.  This cake version is much lighter – much more satisfying to my reluctantly blooming sweet tooth. Typically, it is made with a combination of all-purpose flour and either almond meal or pistachio meal.  And it is then finished off with a healthy drizzle of a simple syrup glaze.  Of course, not one to leave a recipe alone (even when baking) I swapped out some ingredients with what I usually have in the pantry.  I used a whole grain pastry flour and traded the almond meal with raw, unsalted pistachios that I ground up into a fine meal.  Instead of using butter or vegetable oil I used coconut oil.  I like using coconut oil in certain recipes but am not a fan of infusing everything with a tropical island coconut flavor.  I didn't want the cake to have a distinct coconut essence, and was quite pleased to discover that the coconut did not come through in this cake.  I also cut down on the regular sugar and used coconut palm sugar.  I have only recently discovered coconut palm sugar.  What I've learned so far is it is not as processed as regular sugar, and is low in the glycemic index with a high mineral content.  All of which sounds great but just to keep things in prespective – it is still a sweetener – so moderation is key.
This cake is intended to be moist so it really depends on being covered in a simple syrup glaze once it's out of the oven.  I made my simple syrup with a honey/water/rose water combination.  Make sure you use a good quality mild flavored honey – I used a clover honey – orange blossom would be nice too.  You don't want the honey flavor to take over.  The flavor and aroma that should subtly awaken and envelop your senses here is rose water – golab.  Rose water is a staple in Persian baking, ice creams, sorbets and beyond.  It is always present on our New Year Haft Seen Table and our Wedding Sofreh Aghd to literally and symbolically purify and perfume the air.  It is believed to be medicinal, cosmetic with numerous healing properties, and lest we forget, also an aphrodisiac.  The aroma alone can make you drunk with love.  If you are new to the scent and flavor of rose water I suggest starting with small amounts.  Food grade rose water is available at Middle Eastern grocery stores and can also be found online – like here or here.  Unfortunately, organic food grade rose water is not that readily available.  If you have tried any, please share with me your thoughts.  Also check out the lovely Shiva Rose's tutorial on how to make your own rose water for cosmetic use.  It's beautiful.
The great thing about this Pistachio Bakhlava Cake is that it easily freezes for months.  I like to serve it cut into small rectangles – cold out of the fridge or thawed out of the freezer.  A little bite of rosey sweetness with an afternoon or after-dinner tea.
Confession: Our freezer is packed with containers of Pistachio Bakhlava Cake.  Just in time for Toronto's frozen castles to melt (or in our case – the draught to ease – and for Spring to once again rejuvanate us.  Just in time to share with friends and family for Nowruz.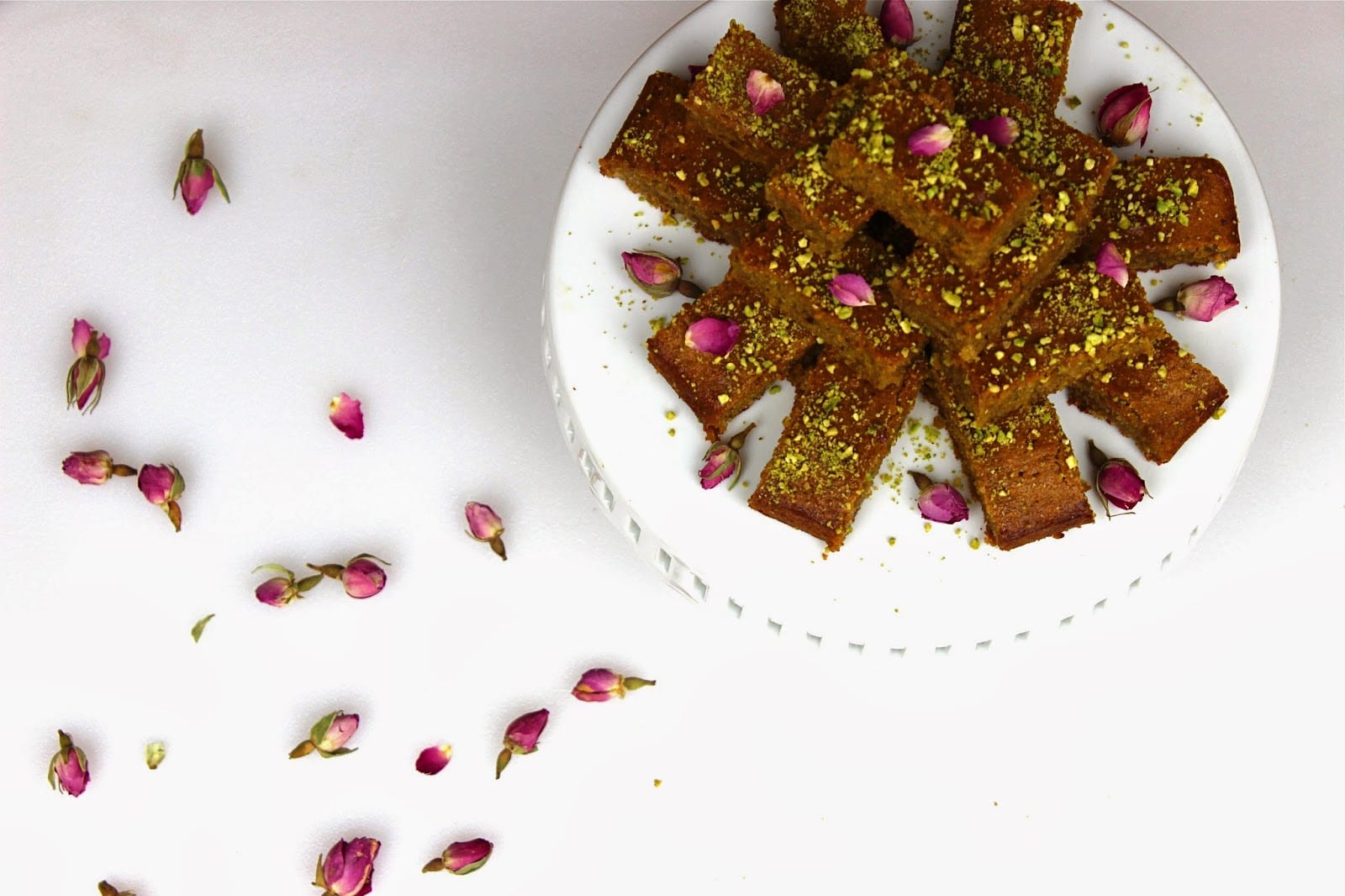 PISTACHIO BAKHLAVA CAKE
Inspired by Maman's recipe and Najmieh Batmanglij's
Makes:  One 9×13 cake
Ingredients for the cake:
2 cups raw unsalted whole shelled pistachios
1 cup whole grain pastry flour – I used this
1 1/2 teaspoons baking powder
1/4 teaspoon salt
3 eggs
1/2 cup coconut palm sugar (or regular cane sugar) – I used this
1/2 cup coconut oil, melted and cooled to room temperature
1/2 cup almond milk or milk of choice
1/2 teaspoon cardamom
2 tablespoons rose water
Ingredients for the glaze:
3/4 cup mild flavored honey
1/2 cup water
1 tablespoon rose water
1- Preheat  oven to 350 degrees with rack  in the middle position.  Lightly grease the bottom of a 9×13 baking pan with any oil/butter of choice.  Line the pan with parchment paper with over hang so that you can easily lift the cake out.
2- Grind up the pistachios in a food processor into a fine meal.  You should have about 2 1/4 cups total meal.  Set aside 2 cups of pistachio meal.  Set aside the remaining 1/4 cup meal for sprinkling the top of the cake.
3- In a small bowl mix together the flour, baking powder and salt.  Set aside.
4- In a mixing bowl of an electrical mixer beat the eggs and sugar until creamy.  With the mixer on add in the oil, milk, cardamom and rose water.  Add the flour mixture and 2 cups pistachio meal to the wet ingredients.  Do this in batches.   Mix until just combined.
5- Spread the batter evenly into the prepared pan.  Bake until a toothpick inserted into the middle of the pan comes out clean.  About 35 – 40 minutes.
6- While the cake bakes prepare the glaze.  In a small pot over medium heat combine the honey and water.  Bring to a very gentle boil.  Stir and simmer for 5 minutes.  Remove from heat and add the rose water.  Stir to combine and set aside.
7- When the cake is ready remove from the oven and place on a cooling rack.  Pour half of the glaze over the cake.  Make sure to cover the entire cake with the glaze.  Allow the cake to absorb the glaze. About 10 minutes.  Using the parchment paper overhang GENTLY lift the cake out of the pan and place on a cutting board.  Cut the cake about every 2 inches.  5 vertical cuts and 3 horizontal cuts.  Pour the rest of the glaze over the cake.  Let the glaze get into the cuts.  Watch out the glaze doesn't run off the cutting board!  Sprinkle the top with remaining 1/4 cup of ground up pistachios.  Allow the cake to cool.  At this point I like to cut even smaller pieces.  I make about 4 more cuts horizontally ending up with 1/2″x2″ rectangular pieces.
Serve right away or store in the fridge for up to 3 days.  I like this cake best cold out of the fridge.  It also freezes great for up to 3+ months.  If freezing make sure you line each layer with parchment paper.