The skies have turned grey.  The fog is rolling in.  There's talk of rain.  Yes, this does happen in Los Angeles.
I need everything to slow down.  A break from the daily routine.  I begin to yearn for my parallel universe.
That alternate life where I curl up on the couch with my boyfreind – now my husband.  Watch a movie at three in the afternoon. And then ponder whether we should watch another – and quickly agree that we should.  Just like we used to.
No responsibilities.  No errands.  No school lunches.  No 6am wake ups.  Little three year old fingers prying open our eyelids – literally.
Simultaneously I move through my current universe. My girls burst through the front door.  I help them take off their coats, boots, sweet-sweaty-stinky-been-playing-working-hard at school socks.  Settle them into the afternoon routine.  Snacks, homework, play, bickering, hugs, melt-downs.
I feel little three your old fingers tugging on my pants, demanding more sweet lemons, more pistachios and toot (mulberries), and can she please! please! have some chocolate today.  Please mama!
I am bombarded with fantastical tales, profound declarations, and silly knock – knock jokes from a wise-beyond-her-years six year old.  And if her sister is going to have chocolate then it's only fair that I have some too, mama!
It is on days like these that we crave something comforting.  Something familiar.  Something that says home, love, family.  Something that will wrap us in its embrace and re-energize us for the week that's to come.  And something that will partly bridge that gap between this reality and that parallel universe I sometimes yearn for.  That for us  is khoresh karafs – celery stew.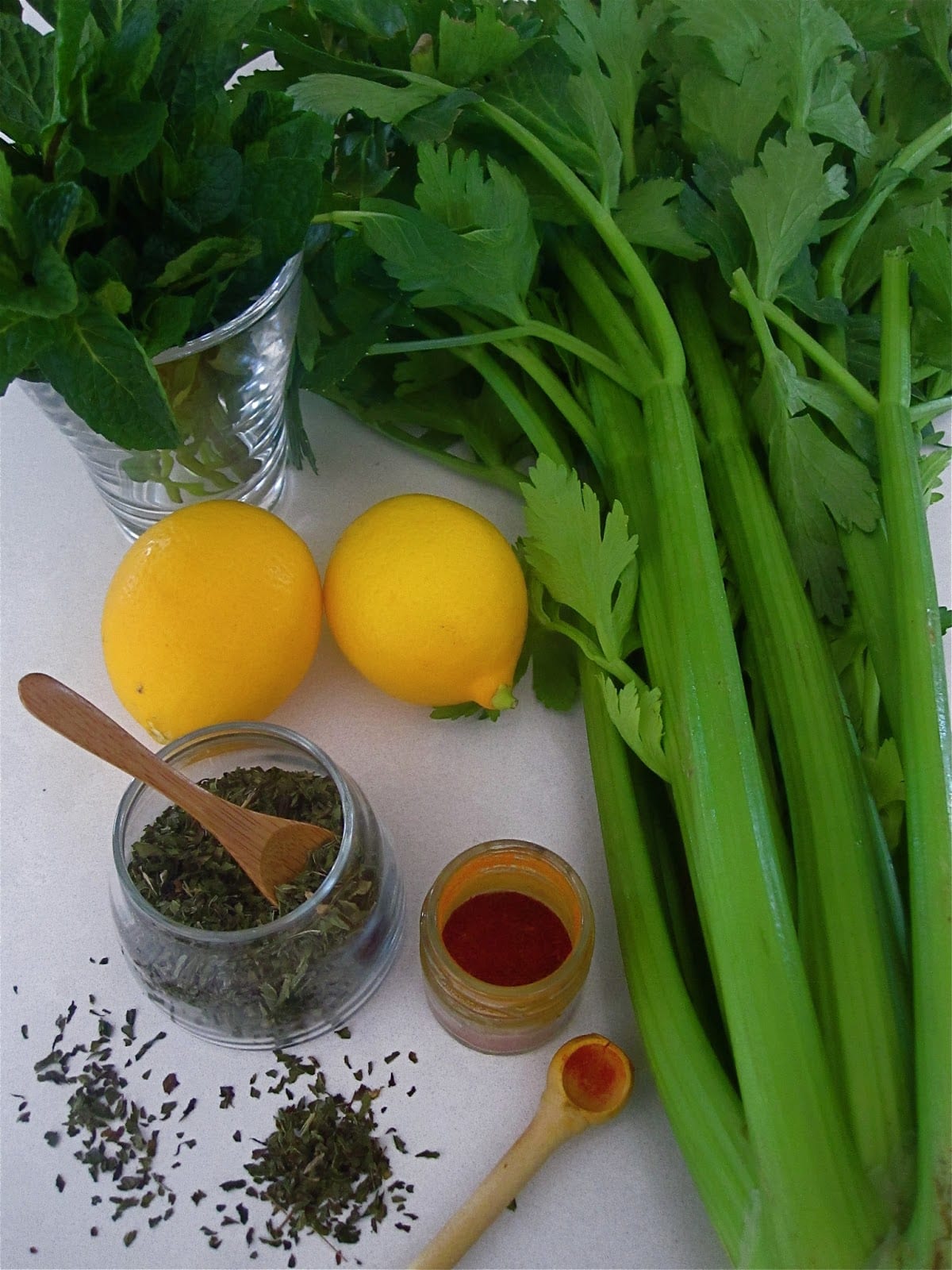 This dish used to be one of my favorites as a child and has now become a staple Sunday supper for us.  Whenever I pull out a luscious green head of celery from my weekly farm box, I know this meal is in our near future.  I use the entire celery head – green leaves included which add so much flavor along with fragrant parsley and mint.  And I am once again reminded (by my mom) of the method behind the creative and sometimes haphazard art of cooking.  There is actually more to the combination of celery, and aromatics like mint and parsley.  Celery can cause excessive gas.  Mint and parsley are known to help with flatulence and digestion – helping to offset the possible indigestion of celery.  An elegant dance choreographed by our ancestors hundreds of years ago.
This stew is also a classic example of the marriage of saffron and turmeric in most Persian dishes.  Combine these two spices together in one form or another and you'll have the makings of a Persian stew.
Like most stews, the longer you let it simmer on a low flame the more flavorful it will be.  This is also a great make-ahead-of-time dish.  It tastes even better the next day (and makes an excellent school lunch – the girls' thermoses come back licked clean).  If you do make it ahead of time just make sure that when you reheat it you adjust the liquid. You will most likely need to add more water and adjust the seasoning.  This is not a dry stew, nor should it be runny like soup.  But you do want it to be juicy.  Traditionally it is served over rice. This is how we enjoy it, but you can also serve it with a side of quinoa or other grain of choice.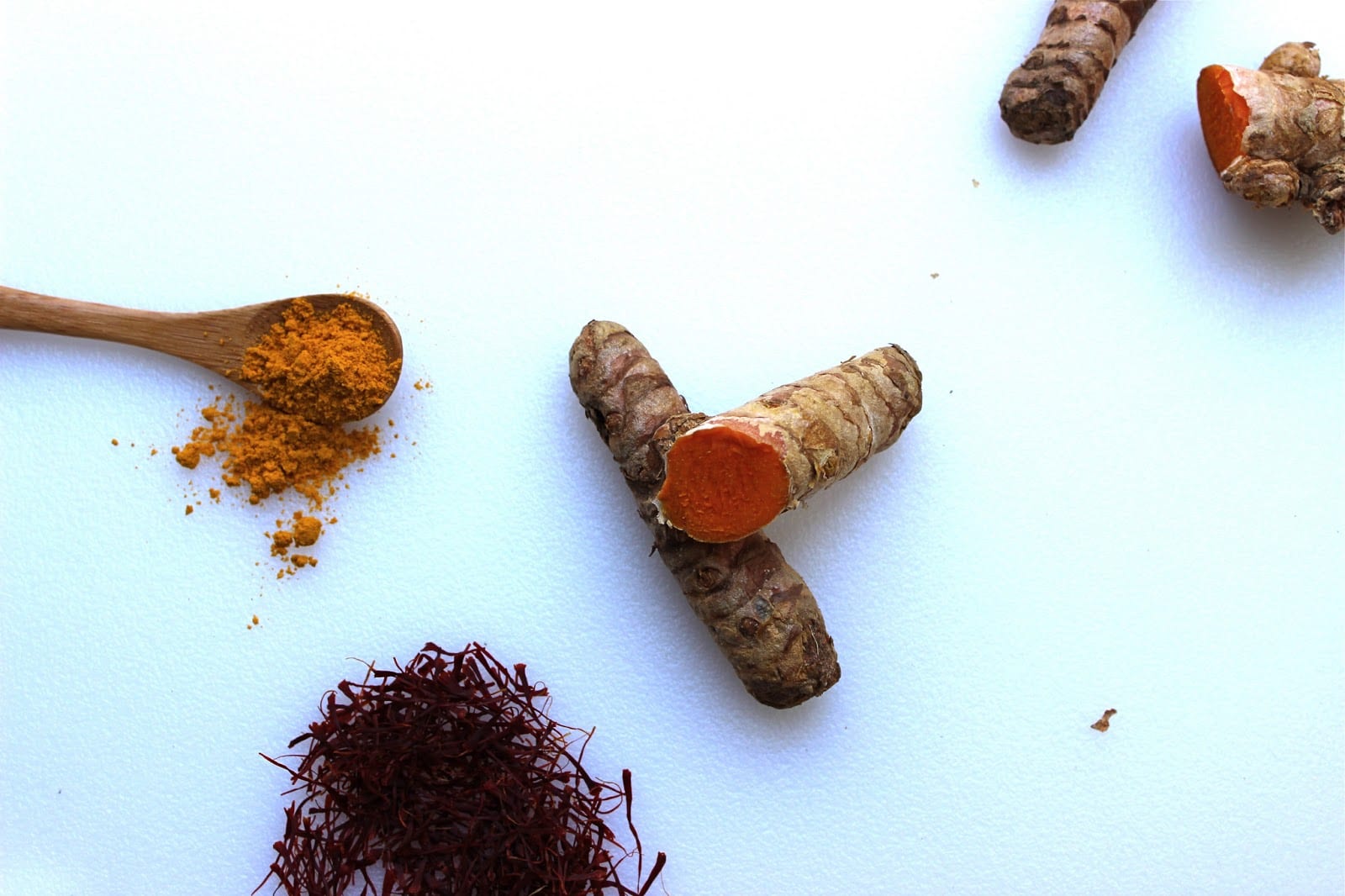 My husband – my then boyfriend – walks through the door.  I hear the shrieks of Dada! Dada! greet him before he has even had the chance to step inside.  The girls launch into telling him all about the ins and outs of their day.
As I make my way to the kitchen table I catch a glimpse of the fog rolling by, the last of the winter light settling behind the trees, making way for spring – new beginnings.
We all come together around the table.  Tucking into a warm dish of khoresh karafs over rice with a side of mast o khiar.
This is my universe.  I wouldn't want it any other way.
Well, maybe I could occasionally time travel back to the three in the afternoon movie watching days with my boyfriend…
---
CELERY STEW – KHORESH KARAFS
Ingredients:
Serves 6-8
6 tablespoons olive oil, divided
1 medium yellow onion, diced
2 skinless boneless preferably organic chicken breasts, cut in 1″ stewing cubes
salt
pepper
1 teaspoon turmeric
1 head celery, sliced in 1/2″-1″ slices
green celery tops (leaves) chopped (if using)
1 bunch fresh parsley, chopped
3 tablespoons fresh mint, chopped plus 1 teaspoon dried mint OR 2 tablespoons dried mint (if not using fresh mint)
juice of 2 lemons or limes, more according to taste
1/4 teaspoon ground saffron dissolved in 5 tablespoons hot (not boiling) water
water
Heat 3 tablespoons olive oil in a large pot or Dutch oven over medium heat.  Add onion, sprinkle with a little salt and saute until translucent, about 6-8 minutes.
Add chicken.  Give a quick stir add 1/2 teaspoon salt, 1/4 teaspoon pepper, and turmeric.  Stir and saute for 5 minutes.
Cover, and turn down heat to low.  Simmer for 15 minutes until chicken releases some of it juices.
In the meantime heat up remaining 3 tablespoons olive oil in a large pan over medium heat.  Add celery and celery tops (if using).  Add 1/2 teaspoon salt.  Saute celery for 10 minutes until softened but not cooked through, stirring occasionally so the celery doesn't stick.
Add parsley and fresh mint.  Stir constantly and saute with celery for about 3 minutes.  Turn down heat if needed.  Mint can burn very quickly.  Keep an eye and a nose on it.  If using dried mint, rub the mint between your palms to release fragrance and flavor and add it to the celery only in the last minute.  Give a quick stir and turn heat off.
Transfer the celery, parsley, mint mixture to the chicken.  Add lemon juice, saffron water, 1 cup water and remaining 1 teaspoon salt. Stir everything to combine.  Bring to a VERY GENTLE boil.  Partially cover and simmer over low heat for at least 45 minutes.  You want the celery to be cooked and tender but NOT mushy.  It should hold its shape.  Add more water as necessary. Taste. Add more fresh lemon or lime juice if needed.  Adjust seasoning as needed. Maybe a little more dried mint?  Salt?  Taste again.  Adjust again to taste.  Taste.  Adjust.  Taste.  Adjust.
Serve over rice.  Will keep in the fridge for up to 3 days.  And in the freezer for up to 3 months.